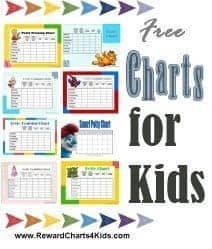 You can find hundreds of free printable charts for kids on this site:
These charts are designed to help children improve their behavior. There are many different behavior charts on this site to overcome most common behavior problems such as sibling rivalry, getting along with friends, homework, chores and other issues that parents often face.
Reward charts
These charts reward children for good behavior. This system can be extremely effective in reaping major changes in behavior. Children's behavior is often governed by consequences. They are more likely to behave in a certain manner if it resulted in a reward in the past. The reward does not have to be material. It can be a compliment or a kind word. Reward charts often remind us to complement our children for doing something positive. When we don't use reward charts we tend to focus more on negative behavior than positive behavior.
Charts to solve sleep issues
Most kids face sleep issues at one time or another. The sleep charts on this site will help keep track of your bedtime routine or reward kids for going to sleep on time and/or staying in bed all night.
Star charts for kids
These charts list a few goals that your child or student would like to accomplish. They then mark each goal with a star once it has been accomplished. Once your child has received a certain number of stars on his chart he can get a small prize or reward.
Potty training charts
These charts are designed to motivate children who are going through the potty training process. Each time they complete one of the milestones they get a sticker on their potty chart.
Behaviour charts
These behaviour charts are for our British and South African visitors.
Award Certificates
Once your child has achieved her goals and has successfully completed a sticker chart  we recommend printing her an award certificate. In order to successfully change your child's behavior you shouldn't rely only on behavior charts or stickers. Your praise and compliments play an important part of the process. One of the ways to reward a child is by using an award certificate to let her know what a great job she has done!
Class Schedules
These class schedules will help you and your children to keep track of all activities and homework that needs to be done.
Get your kids to read books
These charts encourage students to read books. The charts track the number of books that they read and they get a sticker for each book read. If you want to provide even more motivation you can offer a prize once they complete their reading chart. They might intially read to get a reward but they will probably learn to enjoy reading.
There are more charts dealing with specific issues as well.