These free printable good luck cards for kids can be used before exams or before going back to school. I made them for my kids and left one on each of their pillows with a candy bar the night before the first day of school. I do it every year and it has become a fun tradition that they look forward to.
They can also be used for lunch box notes if you want to write a good luck note to your child on the day of an exam to surprise her at lunch time.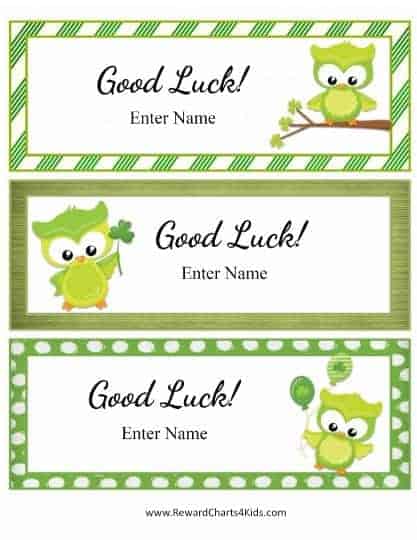 You can customize the cards by adding your name or the name of the recipient. If you want to add a message then click on the A icon. Drag the text to wherever you want it to appear.
How to make free printable good luck cards?
Select a template (there are two available).
Click on the selected template and edit the text.
Print on cardstock or paper.
Cut out all three cards.
Are these good luck cards for kids only?
No. You can use them for adults too. For example, if your spouse is starting a new job it can be a thoughtful gesture to create a good luck gift card.
Tips for Teachers
Make a card for each student for the first day of school. You can attach a pencil or small gift if you have the budget for it.