How do you use a responsibility chart?
Before you start, discuss with your children what chores and responsibilities are, and why they are important. Give your child some examples of your responsibilities and then explain to your children what their responsibilities are.
Decide together with your children what their responsibilities will be for the coming week.
Print a responsibility chart from this site and add the list of responsibilities to the chart.
Once you agree that your child has completed a task, mark it on the chart.
Many people report seeing a noticeable change in their children's behavior right away. Children look forward to completing their tasks and marking their charts – at least in the beginning. After a while, the excitement fades and you might have to remind them. Eventually, it will become a habit and after a while, they will remember to complete their responsibilities without you having to nag. Have patience and don't give up. Even if you have to remind them often, don't let them off the hook. It will teach them that their responsibilities don't have to be completed.
Establish a reward system for the chores done each week. It could be a small gift, treat, or allowance that your child will receive if a specific number of responsibilities are completed each week.
---
Printable Chore Chart
We offer a selection of free printable chore chart templates for every age.
---
Magnetic Chore Chart
The advantage of a magnetic chore chart is that it can be used over and over and it is more sturdy than a printable chart.
Chore Chart by Melissa & Doug
Are yo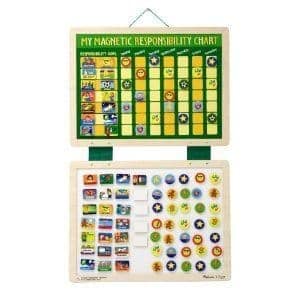 u looking for the perfect responsibility chart to help your kids get their chores done? This chore chart by Melissa and Doug is the perfect solution! It turns chores and responsibilities into an interactive game.
The top part of the chart shows the days of the week with space for magnets that describe their responsibilities each day. The reward magnets with smiley faces show that an activity has been completed. The bottom half of the chart can be used as a dry erase whiteboard to personalize the chart and also to hold the magnets that are not in use.
Includes 90 magnetic wooden pieces that depict chores, behaviors, and rewards.
The chart also comes with four blank pieces that can be personalized.
Dry-erase surface allows you to personalize the responsibility chart
Folds away for easy storage
Size: 12″ x 16″ folded / 24″ x 16″ open
Age Appropriate: 3 years and up.
The responsibility chart is magnetic so it can be used over and over. It serves as a visual reminder of what children have accomplished during the week and what they are expected to do. You will need one chore chart for each child.
The Chore List included:
Load Dishwasher
Set Table
Make Bed
Take Out Trash
Help with Indoor Chores
Clean Up Room
Do Homework
Get Ready for Bed
Show Respect
No Teasing
Empty Dishwasher
Put Toys Away
Stop Whining
Brush Teeth
Don't Use Bad Language
Take Care of Pet
Put Clothes in Wash
Keep Hands to Yourself
Clean Table
Share
Apologize to Someone
Say Please and Thank-You
Take a Bath
Get Dressed
Help with Outdoor Chores
You will also find blank chore cards to write additional chores that are not included.
Customer Reviews
If you have tried this product please feel free to comment below.
As an Amazon Associate, I earn from qualifying purchases. This means that if you purchase anything I earn a commission on your purchase but it doesn't cost you anything.
---
Routine Chart
This morning daily routine chart is totally customizable so you can use it to create an evening routine chart or a daily chore chart.
See also reward chart for pet care
---
Cell Phone Responsibility
One of the responsibilities we need to teach our kids relates to the use of a cell phone. This includes the dangers, cell phone etiquette, proper use, etc. A cell phone contract is a great tool to teach cell phone responsibility.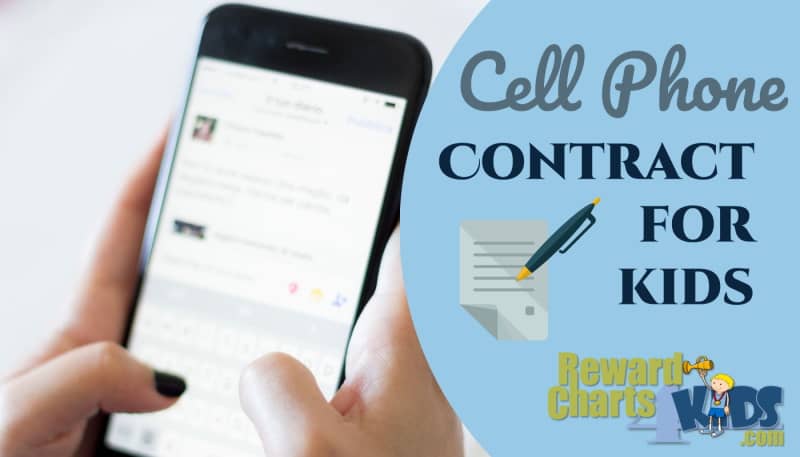 ---
Parenting with Love and Logic
Love and Logic parenting is basically a process by which children grow through their mistakes and learn from the consequences of their choices. The authors claim that if we can teach our kids responsibility, we've accomplished much of our parental task.
---