Free Printable Behavior Charts
This is a Snoopy behavior chart for kids which can be printed for free. You will find many more free behavior charts on this site. You can also find tips on how to use behavior charts to improve your child's behavior.
10 step Snoopy behavior chart
The behavior chart on the right has a section to list the things you want your child to do such as say please and thank you, do homework on time, etc.
15 step Snoopy Behavior Charts
Weekly Behavior Chart with Snoopy
week starts on Sunday
week starts on Monday
This is a 10 step Snoopy Reward Chart.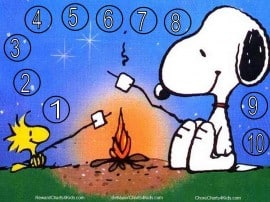 This is a 10 step Snoopy Reward Chart which can be used for two kids (reward chart for multiple children).
Star Chart