Football / Soccer Chore Charts
Free Printable Chore Charts
My sons love soccer and when I give them a soccer chore chart they they are anxious to get their chores done so that they can mark their chart! If your child is also a fan then try one of the following free printable chore charts! If you are not sure which chores they are capable of doing then you might want to check out our list of age appropriate chores!
Chore Chart Template with Leo Messi
Chore Chart for Boys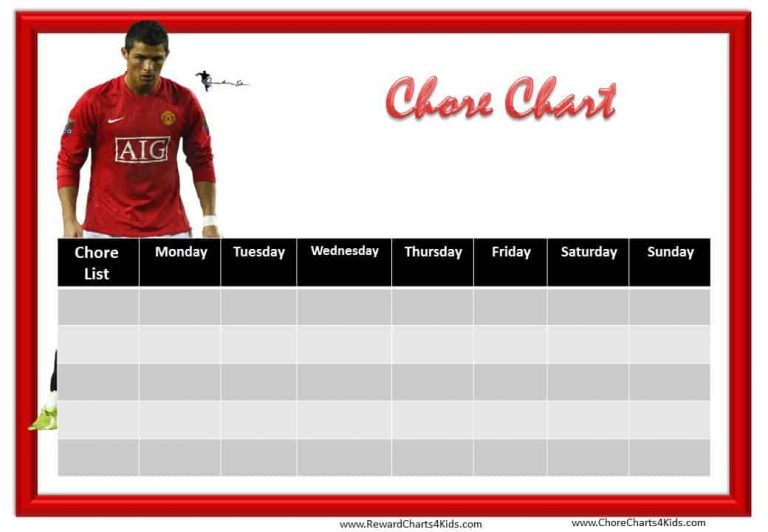 Chore Chart Tip:
Try alternating chores. Doing the same chores every week becomes boring for both children and adults. Try giving your kids new chores to keep the process interesting and help them acquire new skills. Also, as they get older they can handle more responsibility so keep revising their chore list to ensure that all chores are age appropriate.
Giving kids chores will help them develop a sense of responsibility. If they are hesitant to assume responsibility you can explain that since they are taking on responsibilities that will also enable them to take on additional responsibilities that they actually want. For example, they might be able to get an allowance and start looking after their own money and deciding how to spend it. They are not being bribed to do chores but responsibility goes two ways. You assume responsibility but you can also get more responsibility. Suddenly chores don't seem so bad anymore! Parents are also happy with the outcome because it's comforting and rewarding to know that you are preparing your child to deal with real life.
If you want to create a chore chart template and keep using it with a different chore list then you can have it laminated and then it can be reused.