Gold Star Chart
The following star chart has three different rewards – gold star status, silver start status and bronze start status. You determine the reward for achieving each status. It should be more difficult to reach gold star status but the privilege received as a result should be more rewarding.
Black and White Gold Star Chart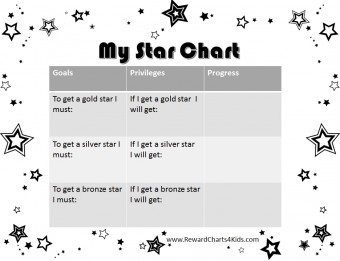 Printable Gold Star Chart
Printable Star Chars for Kids
These charts are in black and white with a bit of color. They are relatively inexpensive to print. If you prefer full color then please check out our selection of colored star charts.
Printable Stars for use on Star Charts
More Free Star Charts