Use this free printable kids schedule template to keep track of your child's activities. Many designs are available. All free!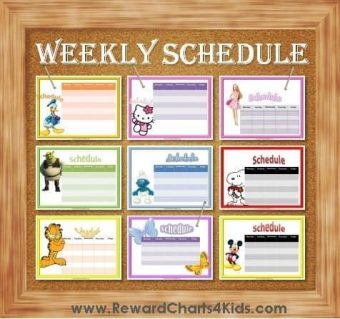 Print any of the weekly schedules below and fill in your weekly schedule. For more options please check our school schedule template.
Tip: Laminate the printable schedule template so that it will last for a long time. Use a dry erase marker to mark each activity. If your child's shedule changes you will not need to reprint the chart. It is also useful when actvities change each week such as play dates and appointments.
Tip: If you are using the kids' schedule template for multiple children, then write each child's activities in a different color. This will help you keep track of each child's schedule. This tip is particulalrly helpful at the beginning of the year when the schedule is still new and confusing.