Free Printable Chore Charts for Kids
Each printable chore chart template can be downloaded and used for free. You can also find tips on how to use our free printable chore charts, the chores kids can be expected to do and how to encourage them to actually to do their chores without having to beg !

If you want to create your own chore chart you will find a selection of free chore chart templates.
A selection of free printable chore charts for kids with all of your favorite characters. If there is a chore chart that you are looking for but can't find here then please leave a comment below and we will try and make it for you if possible (at no charge).

Suggested Age Appropriate Chore List for Kids with a printable chart

A magnetic chore chart which has a wipe clean surface that can be used over and over again. Most charts also come with a list of chores that can be used together with magnetic stars to mark a chore once completed. These charts are not free but if they are used often it can work out cheaper in the long run since they last forever. They can often accommodate many children on one chart and can thus be used in the classroom or as a family chore chart.
A selection of free printable chore charts for boys with Spiderman, Ninjago, Superman, Batman, ninjas and more! If you would like us to add another chore chart to this section then please leave a comment below.
A selection of free printable chore charts for girls with Barbie, Bratz, princesses, fairies and other girly characters! If you would like us to add any other chore chart to this section then please leave a comment below.
If you are trying to get your entire family to help out around the house then family chore charts might be the perfect solution. There are various versions for different sized families.
Chore Chart Maker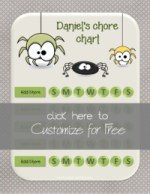 With this free
chore chart maker
you can make free printable personalized chore charts with your own photos, titles and your very own custom chore list.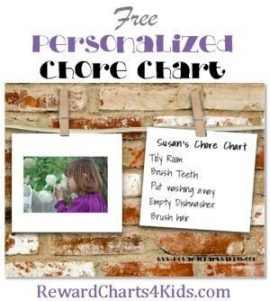 Add your own photo and chore list to this personalized chore chart.
These black and white chore charts can be colored before you use them. When kids color their own chart it gets them involved and makes the process fun!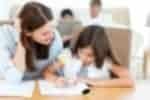 The more you involve your child the more successful the entire process will be. Consider holding a family meeting to introduce the chore system and set the rules. List the chores that need to be done together and divide them up fairly taking into account each family member's responsibilities, capabilities, available time, etc.
Allow your kids to make suggestions on how to successfully implement the chore system. Once you have decided on the implementation, choose a chore chart together (a family chore chart or an individual chore chart for each family member).
This section of the site includes additional info such as: Why use chore charts? How to use them, age appropriate chores and tips on creating a chore list for each child.
These chore charts are cheaper to print since they use less ink than full color chore charts. They are great for teachers who need to print many copies or for those on a tight budget.
Another way to reduce  printing costs is to have your chore chart laminated or slide it into a page protector. The chart can then be reused each week without having to print a new copy each week. There are many different kinds of erasable markers that can be used to mark the chores once completed. Some smudge and others don't. Some are easier to erase than others. Try the various brands to see what works for you.
If having a new chore chart each week with a different design or character  is going to help your kids do their chores then I would print a new copy each week! See what works for you and your family.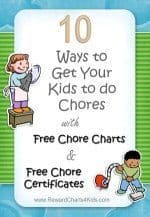 10 Ways to get your kids to do chores without you having to nag. Yes, it is possible!
Do you use chore charts? Do they help? Please comment below.