Free Printable Feelings Charts
Custom Emotion Chart with Your Photos

Emotion Chart from A to Z

This emotion chart includes a list of feelings from a to z with feeling faces for each emotion. It is perfect for hanging in a classroom or at home.
Printable List of Feelings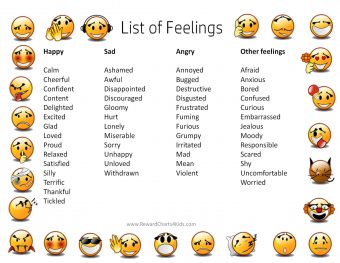 This "feelings list" can be printed and used by kids (and adults) to describe their feelings. You can use this list of feelings on its own or together with a feelings chart/emotion chart from the selection below.
Daily Feelings Chart
Use this printable feeling chart to help your child / student describe how he/she is feeling.
How do you feel today chart
This list of feelings can be used to help children describe their feelings using emotion words. Explain to the child that it is OK to experience various emotions throughout the day. They can use as many emotions as they like. The can either use a word from the suggested list or use their own word. If they don't want to write an emotion then they can draw a feeling face .
Mark how you feel today on your feelings chart.
The following charts have a section to describe the child's mood in the morning, afternoon, and evening. It will help you to discuss or analyze triggers that change her mood throughout the day.
Write the relevant emotion words next to each of the feeling faces

Each of the feeling faces are expressing different emotions. Add a suitable emotion word for each of the feeling faces. This will help children learn how to define types of emotions and use words to express themselves.
Reflection Chart
This chart can be used to analyze behavior and the trigger and to encourage the child to think of a better solution next time he experiences a similar feeling.

What is a feeling face chart?
This is a chart with various faces. Each face shows a different emotion. The emotions are happy, sad, scared, angry, frustrated, etc. Some of the charts on this page have a description for each emotion, whereas others have a feeling face with a line to describe how you think each face is feeling. Encourage the children to describe each mood. We have a few printable feeling lists which can be used to give kids ideas and help them match the relevant feeling to the face.
Why use mood charts?
Some children find it difficult to express themselves or describe how they are feeling. Mood charts can be used to get these kids to open up and share before an issue blows up. They also help discuss various emotions and possible reactions or triggers. During discussions can learn a lot about the child in order to understand him and what he is going through.
Where can these feeling charts be used?
These charts can be used by parents, teachers, or therapists at home, school, kindergarten, therapy centers, or clinics.
How can the mood charts be used?
There are many different ways to use the charts, depending on what you are trying to achieve. One effective method is to ask the children to describe what they think the face is feeling. If they have trouble defining emotions, you can use the printable feeling list on this page. Once they have described this feeling, you can discuss what could have made them feel this way. This will help you understand how various triggers cause kids to behave in a particular manner. For example, if a child has anger management issues, you could then go on to discuss alternative reactions to these different feelings.