Classroom rules are essential guidelines and expectations set by teachers to create a safe, respectful, and productive learning environment for students. These rules help establish a positive atmosphere where students can focus on their studies, interact with one another respectfully, and grow academically and socially.
We provide free classroom rules poster printables to list your class rules. You can edit the rules and change the title if you want to personalize the poster. There is no need to download any software to create the class rules poster. Once you have edited it, you can download or print it on any printer on standard printing paper.
While specific rules may vary depending on the grade level and school, and all rules are editable, our templates include the following basic classroom rules:
Listen to the teacher; 2. Stay in your seat; 3. Do not disturb others; 4. Respect others; 5. Hands to yourself.
Feel free to edit any of the rules or add additional rules.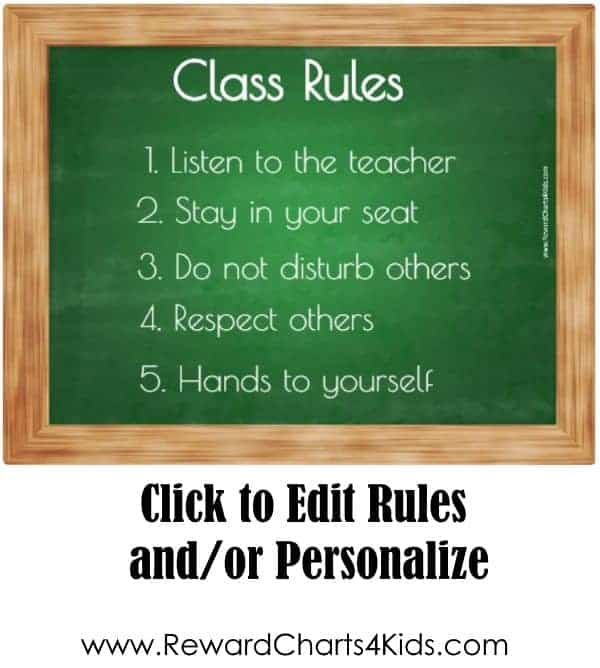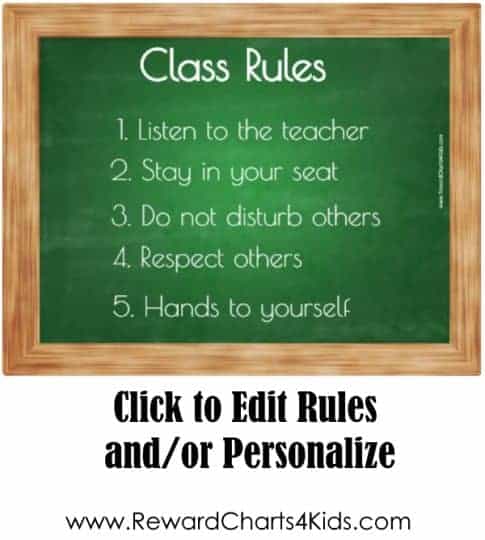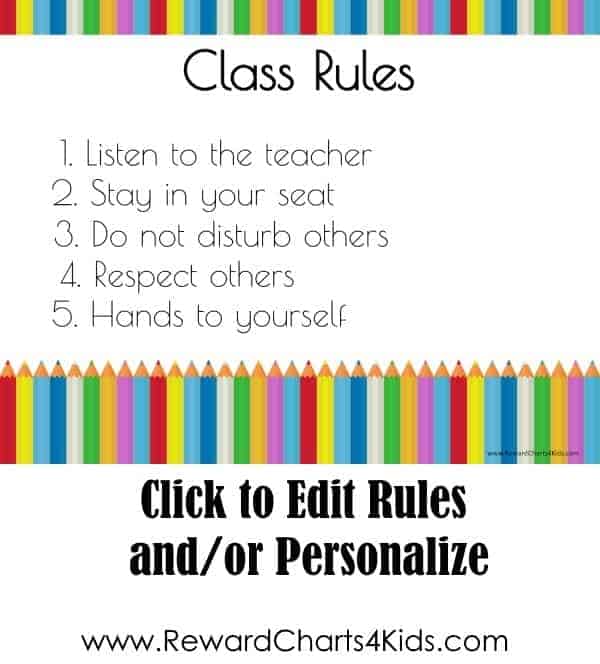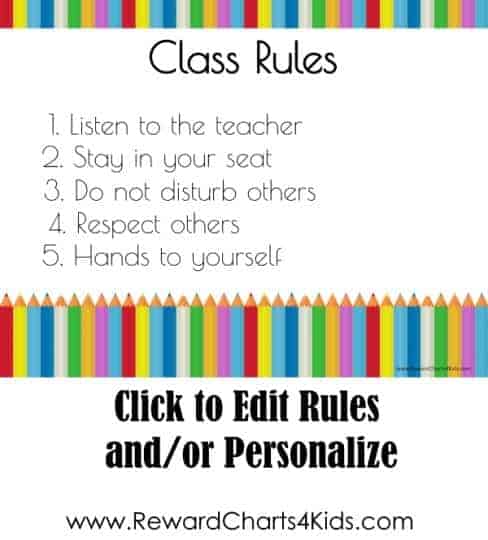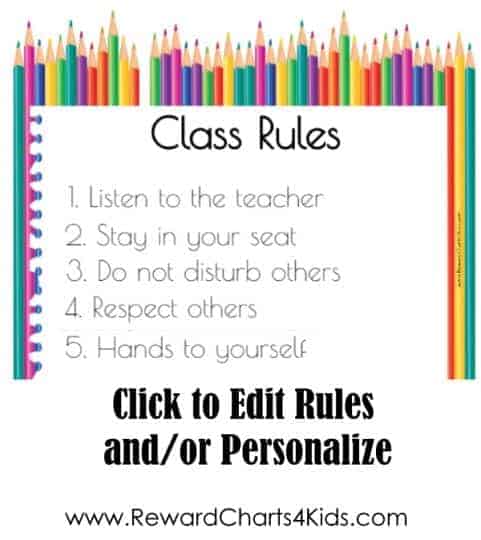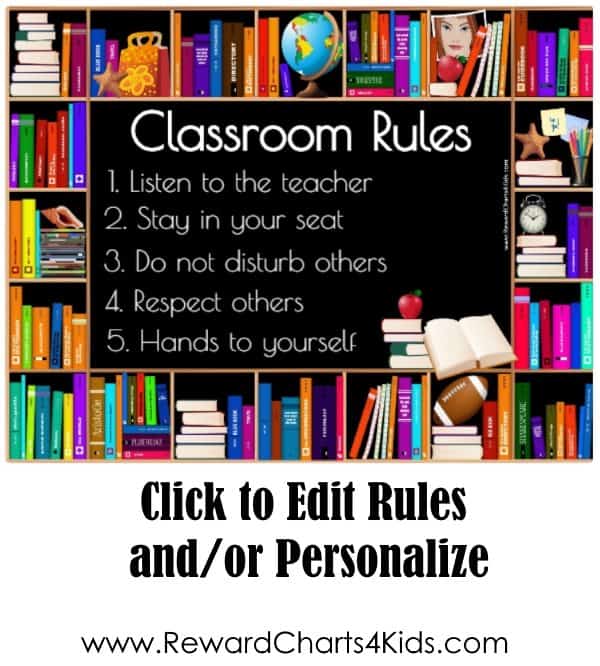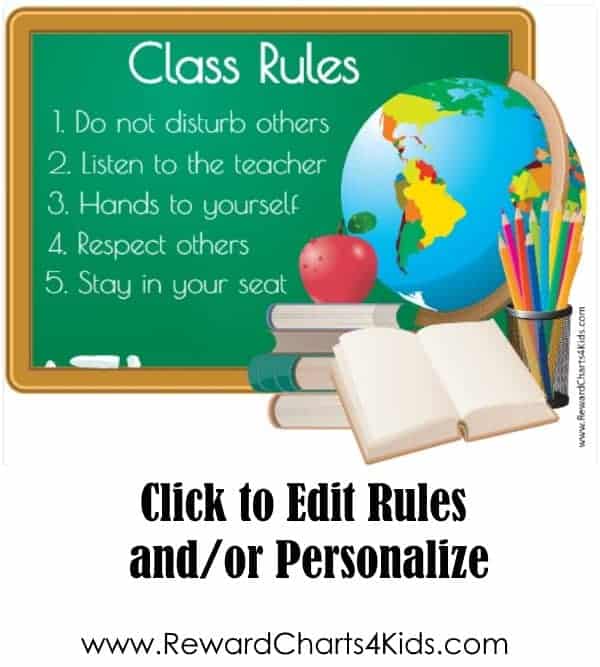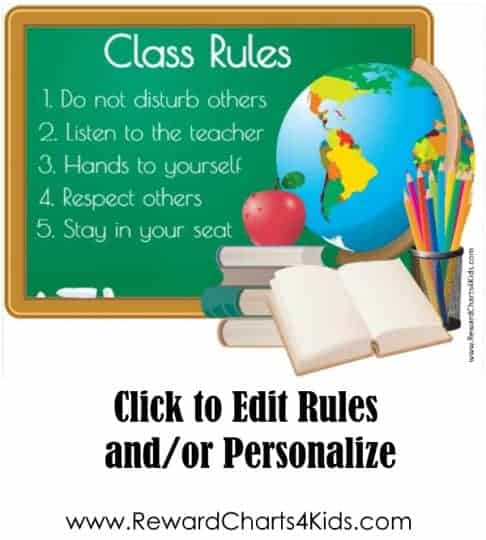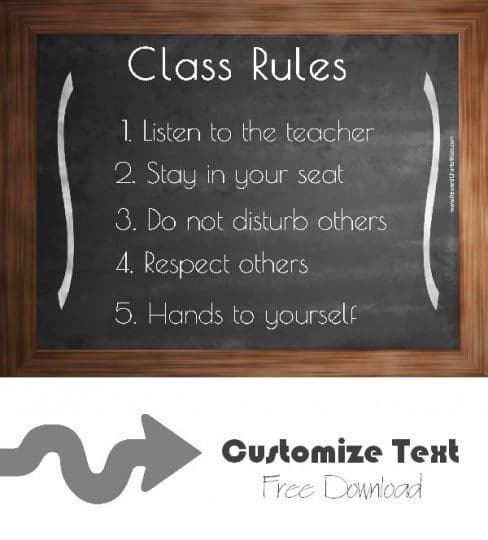 FAQ
How to edit the classroom rules poster?
Select the template that you want to use. There are six possible templates on this page.
Click on the title and type your text if you want to edit it. For example, you can write your classroom number (such as Rules Poster for Classroom 4D), the subject (such as art class rules) or you can write the teacher's name.
Double click on each rule that you would like to change. Type the new rule instead of the sample.
You can add additional rules by clicking on the A icon. The new text can be enlarged so that it is the same size as the other rules.
You can also delete rules by clicking on the little x on the text box.
If you have any other ideas you are free to make any changes that you want since the posters are totally customizable.
Is the classroom rules poster free?
Yes. You can create as many copies as you want for free and the poster can be used in your classroom.
Which grades can they be used for?
Since you can edit the rules you can adapt them to pre-k, kindergarten, middle school or high school.
Classroom Rules
The following rules have been included in the templates:
Listen to the teacher: Pay attention to the teacher during lessons and follow their instructions.
Stay in your seat: Remain seated during class, unless given permission to move.
Do not disturb others: Avoid behavior that disrupts the learning of fellow students.
Respect others: Treat classmates, teachers, and staff with kindness, consideration, and respect. Be polite and use appropriate language.
Hands to yourself: Keep your hands to yourself, showing respect for personal space and boundaries.
Here are additional rules that you can add to your poster.
Listen when others are speaking: Pay attention to the teacher and classmates during lessons or discussions.
Raise your hand: Wait for your turn to speak or ask questions. Raising your hand allows the teacher to manage class discussions effectively.
Stay on task: Complete assignments, participate in class activities, and focus on learning.
Follow instructions: Listen carefully to the teacher's instructions and follow them accordingly.
Keep hands, feet, and objects to yourself: Show consideration for personal space and property.
Be prepared: Bring necessary materials, such as books, notebooks, and stationery, to class.
No disruptive behavior: Avoid actions that interrupt or disturb the learning process of others.
Use electronic devices appropriately: Follow school policies on device usage in the classroom.
Respect the classroom and school property: Keep the classroom clean and tidy, and use school resources responsibly.
Be punctual: Arrive on time for class and activities.
No bullying or harassment: Treat everyone with kindness and empathy, and report any issues to the teacher or school staff.
It's important for teachers to explain these rules clearly to their students at the beginning of the school year and reinforce them consistently throughout the academic term. These posters will help them explain the rules and remind students throughout the year. Establishing a positive classroom culture with well-defined rules helps create a conducive environment for learning and fosters a sense of responsibility and cooperation among students.