Are you looking for an easy way to improve your kids' behavior? Are you fed up with their bad behavior? You've come to the right place! Printable behavior charts can improve your child's behavior overnight. All of our charts are free!
No registration required to download or print.
You can change the background and the theme. You can also add clipart with various themes such as princesses, superheroes, space, and many more. Once you have added the clipart, you can edit the text and even add additional text. You can also add your child's photo.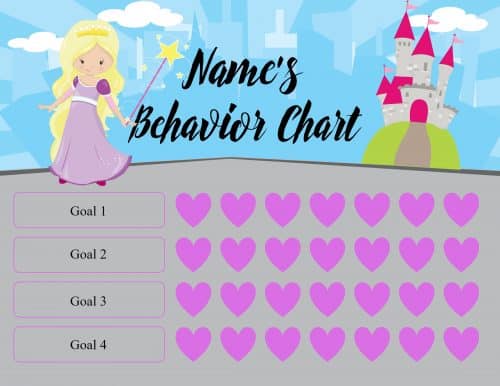 Behavior Chart Template
You can use this generic behavior chart for many different purposes.
Free Printable Behavior Charts
---
What are behavior charts?
Behavior charts track a child's behavior and reward positive desirable behavior. The reward can either be the sticker on the behavior chart or a treat that the child receives when she earns enough stars. Decide on the required number of stars ahead of time and let the child know. The amount depends on the child's age. Charts with only ten steps usually work best with kids age 3 to 5, while older kids typically need around 20 steps. We offer a variety of free behavior charts that you can download and print.
Why do behavior charts work?
Positive reinforcement is the best way to encourage and maintain good behavior. Children love to be praised and encouraged. Sticker Charts ensure that we praise desirable behavior, which we otherwise might not have recognized.
How do you use these charts?
Show your child our selection of printable charts and let him or her choose one.
Download and print the chart of your child's choice.
Define "good behavior" and discuss it with your child. Make sure that they understand how you would like them to behave and what kind of behavior will be rewarded with a star or sticker. For example, if your child comes into your bed during the night, then explain to her that each night she stays in her bed throughout the night, she will get a star.
When the chart is complete, acknowledge his achievement with a reward.
Make the process fun and enjoyable!
How do you customize the editable behavior charts?
If you have selected an editable behavior chart, then you can edit the text and add your own image.
Click on the editable behavior chart to open the chart maker.
Edit the text and add your text if you want.
Add a photo.
Download to your PC and print.
For what age can these charts be used to promote good behavior?
Behavior charts can be very efficient from age 3 until about age 7 or 8. The age of the child will determine the number of stars or steps on the chart. For younger kids up to age 5, we recommend one of the charts with 10 steps. Kids, ages 5 – 8, can cope with 20 steps.
How to develop and use a reward program
There are
four steps
:
Step 1: Decide what specific behaviors you want to reward
Pick a few specific behaviors that your child will clearly understand. For example, don't write "behave well," but rather "no hitting." Only choose responses that your child is capable of and are suitable for his age.
Step 2: Decide on the reward
The reward should be something your child wants to earn and will enjoy. It doesn't have to cost money. Getting the stickers on the chart can be the reward. If that is not going to work for your child, then decide on a reward when he earns a certain number of stickers such as going out for ice cream.
Step 3: Create a behavior chart
Select a behavior chart from this site. You can add pictures to any chart. Click on "add photo" and add a photo if your child cannot read yet. For example, instead of writing "tidy your room" add a photo of your child's room when it is tidy.
Step 4: Explain the reward program to your child
Your child needs to understand precisely what he has to do to get a sticker on his behavior chart.
Step 5: Use the reward program
Remember to give him a sticker on his chart immediately after the behavior to make sure that he knows exactly what he did to earn the reward.
Step 6: Slowly change the selected behavior or phase out the reward program
Reward your child often when you start using the behavior chart. Over time, you will notice a change in your child's behavior. Once this new behavior has become a habit, you can either stop using the behavior chart or start a new chart with new goals.
Should you take off stickers for bad behavior?
No.
Never take away rewards
your child has earned. Rewards that your child has earned are his and you should not take them away for misbehaving.