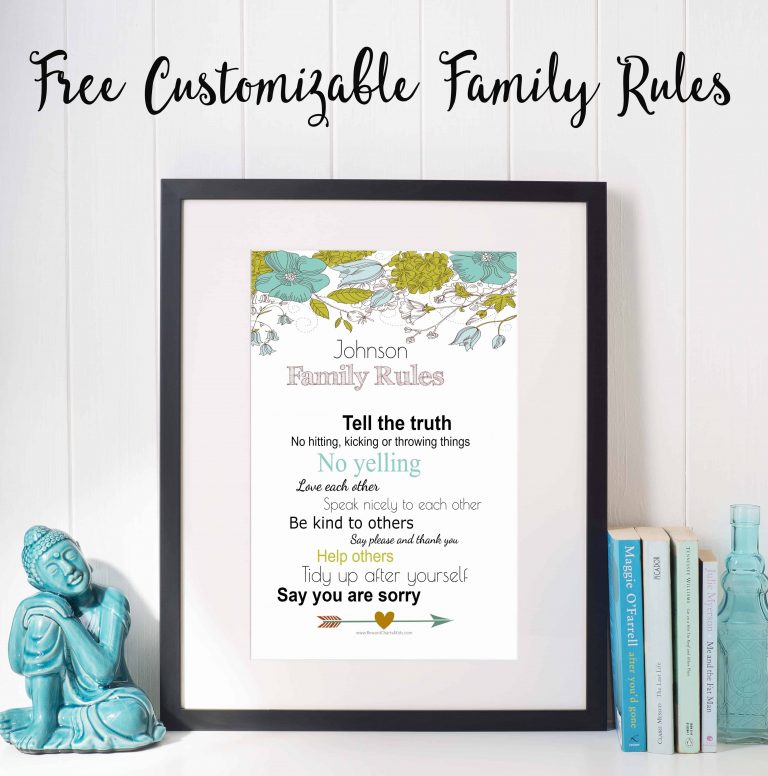 This free printable family rules sign comes in 18 different designs! We have written 10 sample family rules on each poster, but you can edit each of the rules.
Use the free family house rules template to create your own personalized family signs by adding your family name to the title and editing any house rules that you want to change. You can either change the text to include your personal house rules, edit some of the rules, or use as-is. Don't forget to change your family name.
Scroll down to see each of the designs until you find the one you like best. Scroll down to the bottom of the page to find tips on how to decide on your family rules and how to ensure that they are effective.
On the above template, you can edit the title as well. You can, therefore, use it for house rules in other places such as Airbnb. In the other versions on this page, you can edit all text except "Family Rules".
We also offer a personalized family rules sign with a Frozen theme.
What are family rules?
Family rules are guidelines describing how family members should treat each other. They enable all members of the family to know what is expected of them in order to get along and prevent arguments. They also help parents to be more consistent. A few clear and specific rules usually work better than a long list, especially for younger kids. As kids get older, you can add more rules. To add additional rules, simply visit this site again and click on "add text". If you want to add a lot of rules, you might need to move the existing family rules up the page or make the font smaller to fit more lines on the page.
Tips
Involve all family members when creating the list
According to raisingchildren.net.au, it's important to involve all family members as much as possible when developing family rules. They suggest that you talk to your children about why your family needs the rules. As children get older, they can take a bigger part in deciding what the rules should be, as well as the consequences for breaking them. When you involve pre-teens and teenagers in setting the rules, it makes them take responsibility for their own behavior.
Decide not only on the rules but also on the consequences if a rule is broken
According to raisingchildren.net.au, family rules are only effective when you back them up. This means that when you decide on a rule, you also need to decide ahead of time what will happen if someone breaks the rule. For younger children, you can simply remind your child of the rule when it is broken and give her another chance, but it will be more effective to implement the consequence you've agreed on. For teenagers, agreement on a clear set of house rules and consequences will help them develop both self-discipline and autonomy.
Since all printables on this site are free, you can make as many copies as you want. We suggest that you make two versions of the family house rules sign. One sign with a list of the rules that you can frame and hang up. Another version with consequences for each rule. You can give each person a copy of this version. You can change the name for each person to personalize their list. Print their copy and then change the name for each child. That way, you don't need to recreate the list but just change the title each time.
How to use the family rules sign for children who can't read
When younger children can't read yet, you can add a photo of each rule next to the rule. To add a photo, select the template that you will use and then click on "add photo". Take photos of your child or family that will help her understand each rule.