Free Printable Star Charts
Tired of the nagging & arguing? Want well behaved kids? Star charts can transform your child's behavior almost immediately. All of our Star Charts are free!
The following charts are in full color. If you are watching your ink consumption and prefer charts that are cheaper to print you might want to check out our black and white low-ink alternatives below.
Use the following star charts to target one kind of bad behavior or bad behavior in general. Each time your child behaves well stick a star sticker or mark the star chart. Once the chart is complete congratulate her! You can even give her a special treat such as ice cream, movie, visit to a place she loves to go to or even a small gift!
After completing a few incentive charts the good behavior comes naturally and you don't have to continue using them. If his bad behavior returns just print out a new star chart and keep track of good behavior.
It is important to be consistent and even once your child's behavior is perfect you should still carry on the process for a few weeks or months to ensure that it doesn't slip back.
Customize this star chart with your own photo, text, and title. Once you have uploaded the photo move the props around until you are happy with the placement then print.

If your child asks for a particular star chart that you don't find here then please comment below. We will try and help out (with no charge of course)!
Printable Stars
What are Star Charts?
Star charts reward desired behaviors with a star. When the child earns enough stars on the chart he or she receives a small gift or reward. This can be a day out to a special place, a small toy or any other reward. Usually, the parent or caregiver decides together with the child on the required number of stars that the child must earn at the beginning of the process. We have many printable star charts with all of your child's favorite characters: Dora, Boots, Diego, Ben 10, Superman, SpongeBob and many more. The charts have different numbers of steps (determined by the age of the child) and they are all free!
Why do Star Charts work?
It has been proven that it is more effective to reward positive behavior than to focus on negative behavior. We often forget to praise our kids for good behavior yet bad behavior is usually always mentioned. Star charts help us to continuously encourage and praise good behavior.
How are Star Charts Used?
Show your child our free printable star charts and choose one together. Kids ages 3 – 5, should choose a star chart with only 10 steps while older kids can choose anyone.
Print the chosen star chart. You can either buy star stickers to stick on the charts or print our downloadable stars. They will need to be cut out and pasted on the charts. Kids will enjoy this too.
Define "good behavior" and discuss your expectations with your child. Try to make it as clear what kind of behavior will be rewarded with a star.
When all the required number of stars is received acknowledge the achievement with a reward which you can choose together with your child. You can also recognize the halfway mark to keep your child motivated.
Gold Star Chart
The following star chart has three different rewards – gold star status, silver start status and bronze start status. You determine the reward for achieving each status. It should be more difficult to reach gold star status but the privilege received as a result should be more rewarding.
Black and White Gold Star Chart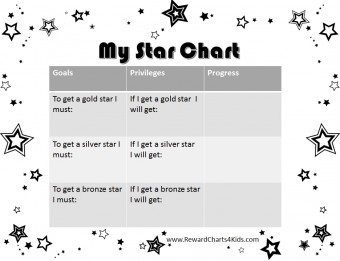 Printable Gold Star Chart
Printable Star Chars for Kids
These charts are in black and white with a bit of color. They are relatively inexpensive to print. If you prefer full color then please check out our selection of colored star charts.
Printable Stars for use on Star Charts