Potty Training Tools and Resources
Potty Training
---
Potty Training Readiness
Are you wondering when to start potty training? Is your child ready? Use the potty training readiness checklist or take the online potty quiz to determine if you are ready to start!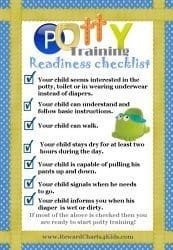 ---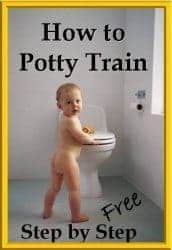 How to Potty Train
A step by step guide on how to potty train with tips to help you get out of diapers / nappies as soon as possible.
---
Potty Training Charts
A potty chart can actually help make the potty training process fun and successful.
We offer a selection of free printable potty training charts to keep track of your child's potty progress and motivate her to complete the process. Please note that any of the sticker charts on this site can be used for this purpose. Choose a sticker chart together with your child or print one with a character that you know she loves. Each time she is successful mark the chart with a sticker or marker. You can either add the milestones on the chart or use the 10 or 20 step charts for this purpose. Just mark the next step for each successful use.
The goal is to provide positive reinforcement so even if the child does not successfully "go potty" you can give a sticker on the chart for trying.
---
Potty Book
A free printable potty book that can be customized with your own text and photos to make your child the hero of the potty book!
---
Potty Training Rewards
A selection of free printable potty training rewards to award to kids who are potty trained or to motivate kids that are in the middle of the training process.
Give your child a potty training certificate at the end of a dry day!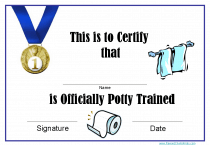 Some people like to reward their kids with candy or "potty prizes" each time they go. You might find your child running to the potty more often than he needs to just to get candy. I know that my kids would! Certificates are a great way to reward children for their accomplishments without giving them gifts or candy.
---
Potty Prize
A potty prize can be given each time your child successfully goes to the potty. The prize should be small since the child will probably get quite a few each day. Some people use candy but if you prefer not to you can find some small prize to give instead.
The potty prize labels come in 3 sizes to ensure that they fit your jar or box. They can be customized with your child's name. If you don't want to call it a potty prize then feel free to personalize the text.