If you are looking for a free editable potty training chart to motivate your child during the potty training process, then you have come to the right place! We offer a large selection of free potty charts. No registration is required to download!
You can customize most of the charts. You can also use your text and the terminology that you prefer. If your child uses the toilet and not a potty, then change the text accordingly. You can also add your child's name to personalize your potty training reward chart.
Free potty chart printables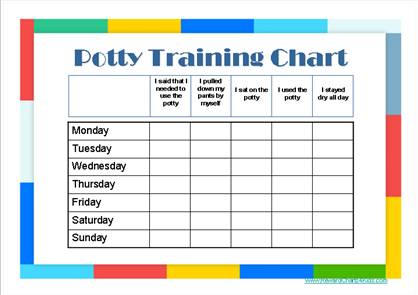 Potty Chart with a Specific Theme
These charts have different milestones that need to be reached in order to be potty trained. Mark each milestone as the child reaches it. Even if the child does not go on the potty you can praise her for making partial progress.
10 Step Charts
These charts have 10 steps each. You can also add the child's name and photo.
Providing reinforcement and rewards for smaller accomplishments during the process of potty training will encourage your child to reach the last stages of potty training successfully.
Print out the potty training charts to help motivate and reward your child throughout the potty training process. Each time your child is successful, either give him or her a sticker or cut out and paste a star in the appropriate place.
There are two kinds of Potty Charts on this site – either a blank chart or a chart with five different milestones:
1) Blank Potty Training Chart: You can give the child a sticker for each accomplishment no matter what it is, or you can use different colored stickers or stars for various achievements. For example, letting you know that the child needs to go, pulling down pants, urination, bowel movements, staying dry all day.
2) Potty Charts with Milestones: These potty training charts have five different milestones, and the child receives a sticker each time she reaches one:
I said that I needed to use the potty | I pulled down my pants by myself | I sat on the potty | I used the potty | I stayed dry all-day
How does a potty chart work?
Potty charts basically remind you to praise your child's effort during potty training and recognize minor achievements along the way. Our printable potty charts list the milestones that your child needs to reach to be potty trained. These milestones are as follows:
I said that I needed to use the potty | I pulled down my pants by myself | I sat on the potty | I used the potty | I stayed dry all-day
This way, even if your child doesn't stay dry all day, she still gets recognition for partial success (such as recognizing the need to go). Compliment her and let her know what a good job she is doing even if she doesn't make it to the potty on time.
For some kids getting stickers on their potty chart will be all they need to keep them motivated. Other kids will be happy to receive compliments and don't need any additional incentive. Some kids will want a prize when they complete their chart or each time they are successful. We call this a "potty prize," and if you are going to give one, then you might find it helpful to keep a jar of small prizes handy during potty training. See what works for your child.
Isn't giving my child a "potty prize" a form of bribery?
A reward is given AFTER your child successfully uses the potty. A bribe is given BEFORE. You should give your child a "potty prize" soon after she successfully uses the potty to make a firm association between the "potty prize" and the success on the potty. The "potty prize" motivates your child to do something that requires effort on her part. It gives her an incentive to stick with it until it becomes a habit.