A chore chart template can be used to make free printable chore charts customized for your family or children.
Free Printable Chore Chart Template
We offer various chore chart templates that can be personalized, downloaded, and then printed. Select the template that will best suit your needs. Establish your chore list and add it to the chore chart. All the templates can be personalized with your own chore list. Some are in Word format, and others can be edited with our free online chore chart maker. There is also space to add a picture or photo. When making a chore chart for kids, you can either add a photo of the child or maybe a photo of the reward to keep the child motivated. For example, if you have promised your child to take her to the zoo if she does all of her chores you could put a photo of her favorite animal on the chore chart to remind her what she is working towards. You can also add photos of the tasks if your child cannot read.
Personalized Customizable Chore Chart
This is a colored weekly chore chart template with the week starting on Sunday or starting on Monday. Add the name of the person who the chore chart belongs to. Add the list of chores to be completed each day. This chore chart is handy if the chores to be done each day are different. If the chore list repeats itself each day you could either use the above charts or just copy the list each day. Each time a chore is completed you can delete it. If you would like to reuse the chore chart you can laminate it and use a marker that can be deleted.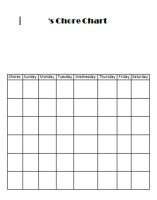 This is a weekly chore chart template with the week starting on Sunday or starting on Monday. The chart is black and white. Fill in your name or the name of the chore chart owner, add a picture, and add the chore list. Each time a chore is completed you can mark it with a marker or sticker. This chore chart is appropriate for chores that are done each day.
A selection of free printable chore charts for kids. If you are looking for a chore chart with a specific character then check out these behavior charts. They can be customized so you can use them as chore charts.
Chore Charts for Kids
These chore charts have space for four chores (add your chore list to the top line) and a weekly chart to mark each chore as it is completed.
Why Use Kids' Chore Charts?
Getting kids to do chores around the house not only helps you but also helps them acquire valuable skills that they will need later on in life. The later you start with chores the more difficult it will be for your child. On the other hand, younger kids cannot handle responsibility so you have to start very slowly. Make sure that you designate chores according to the child's age and capability. From age 2 kids can start tidying their toys and putting away their books. Start working together with your child until they are adept at during their chores on their own. Certain chores can be considered "paid chores". This will help your kids learn to save, budget and give them a sense of independence. Make chores fun with our free chore charts for kids.
How to make Chore Charts for Kids
Make a list of chores that your kids can help with (see suggested chore list for kids).
Decide how often each chore should be done.
Choose any one of the printable chore charts together with your child.
Fill in the chore list decided upon in step 1.
If any of the chores on the chore list are considered "paid chores" then make note of this on the chart.
Hold a family meeting during which you hand each child his or her chore chart with the list of chores.
Each time your child completes a chore, mark it on the chore chart. You can do this with a marker, sticker or star.
If there is a chore chart that you were looking for but did not find anywhere on this site then please leave a comment below, and we will try to create it for you (free of charge).