This is a free printable and customizable DIY chore wheel. Type in the name of each person and your chore list before your print and assemble. Instant download!
Once assembled spin to rotate tasks. You can also rotate each week to ensure a fair distribution of all tasks.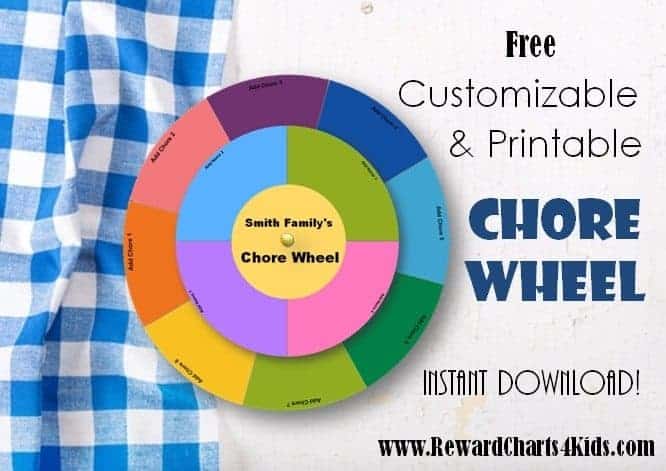 A chore wheel is a great way to divide up chores, particularly when nobody wants to do some tasks. You can then use it to rotate the chores. It also adds a bit of fun to a potentially stressful process.
The chore wheel can be used by a family with kids or by roommates who need a system to divide up the household chores. If you want to use it for couples, then select the template for four people and type each name twice.
Chore Wheel Template
Decide how many people will appear on your chore wheel template. We offer a few different options, but you can easily make changes:
Print the template and then follow the instructions below.
How to Make a Chore Wheel
This chore wheel can be used by roommates, couples or families with children. You can use it to divide chores and then rotate them.
Materials
Cardstock or paper
A paper fastener or split pin
Tools
Chore wheel template (see above)
Printer
Scissors
Instructions
Download the relevant template according to the number of people participating.
If each person is going to do an equal number of chores, then you add one name per person. If you want the parents or one particular person to do more tasks than others, then add that name more than once.
Type in the names of each family member and the family name in the middle of the wheel. Download and print on cardstock. Cut out the wheel.
Click here to open the chore wheel maker. Write each chore on the larger chore wheel. If you want to add more than one task per quadrant, then click on enter and type another chore below. Once you have completed all of the chores, download the chart and print on cardstock. Cut out the wheel.
Use the back of a paper fastener or split pin to make a hole in the center of each circle.
Join the two circles with the paper fastener or split pin.
Notes
To add another person, click on the "A" icon (add text). Type in the name and move it to the correct place. To delete a person, click on the little x on the text box.