This is a free printable and customizable DIY chore wheel. Type in the name of each person and your chore list before your print and assemble. Instant download!
Once assembled spin to rotate tasks. You can also rotate each week to ensure a fair distribution of all tasks.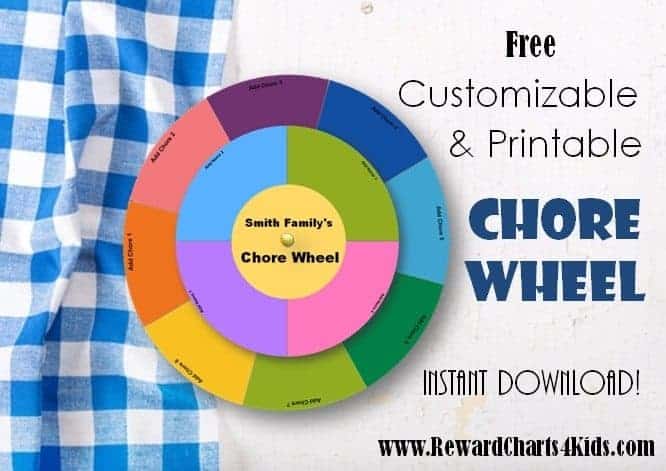 A chore wheel is a great way to divide up chores, particularly when nobody wants to do some of the tasks. You can then use it to rotate the chores. It also adds a bit of fun to a potentially stressful process.
The chore wheel can be used by a family with kids or by roommates who need a system to divide up the household chores. If you want to use it for couples then select the template for four people and type each name twice.
Chore Wheel Template
Decide how many people will appear on your chore wheel template. We offer a few different options, but you can easily make changes:
Print the template and then follow the instructions below.
[mv_create key="3″ type="diy" title="How to Make a Chore Wheel" thumbnail="//www.rewardcharts4kids.com/wp-content/uploads/2019/06/chore-wheel.jpg"]