Kids Morning Routine Chart

Getting kids ready in the morning can be quite challenging, to put it mildly. When kids sense that you are in a hurry they seem to start moving in slow motion. You need to get them to school or daycare on time but there are many things that need to be done before then such as eating breakfast, getting dressed, brushing teeth, making beds, and doing whatever you have to do in the morning. These kids' morning routine chart printables will help you encourage them to get everything done as quickly as possible.
After a while getting ready in the morning becomes a habit and you won't even need reward charts to make it happen!
We offer a selection of free morning routine chart printables to help get kids get ready for school in the morning. We have routine charts for a one-week period and charts for a two-week period. You can complete the chore list or list of things to do in the morning. If the template you selected does not have a list of tasks to complete then you can add your own list.
Visual Morning Routine Chart
We also offer a morning routine printable chart for toddlers and other young kids who can't read. There are pictures for each chore. Each day that your child does each of the tasks for that morning you stick a sticker on that day.
This is a morning routine chart for toddlers and older kids who cannot read yet. Since all text can be edited it can also be used for your evening routine or as a chore chart.
Click on the image above to open the morning routine maker. You can change the tasks. You can add your own photo to each task. Please ensure that the photos are taken in landscape format (horizontal).
Since all text is editable you can create any kids' daily routine chart with this template. It can be an evening routine or even a daily school schedule. Simple edit the text and add any related photo or image.
Reward charts to get kids ready for school
Add a morning checklist for kids to each of the following charts. Some already have one and others have space to add one.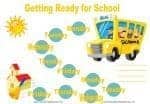 Reward Chart for two-week period to help kids get ready for school. The list of morning tasks is blank enabling you to add your own list.
One Week Reward Chart to encourage kids to get ready for school
Daily routine chart for two weeks to get ready for school in the mornings
Morning routine charts for a two week period with a short morning routine checklist for kids (make bed, get dressed, eat breakfast and brush teeth)
Toddler Routine Chart
A toddler morning routine chart helps toddlers get ready for daycare in the morning. We have reward charts for a period of one week and others for a period of two weeks. Some of the reward charts include a chore list / set list of tasks while others have a place for you to fill in your own list. There is also a reward chart for small kids that cannot read. This sticker chart includes a picture for each task so that the young child can remember and understand what to do.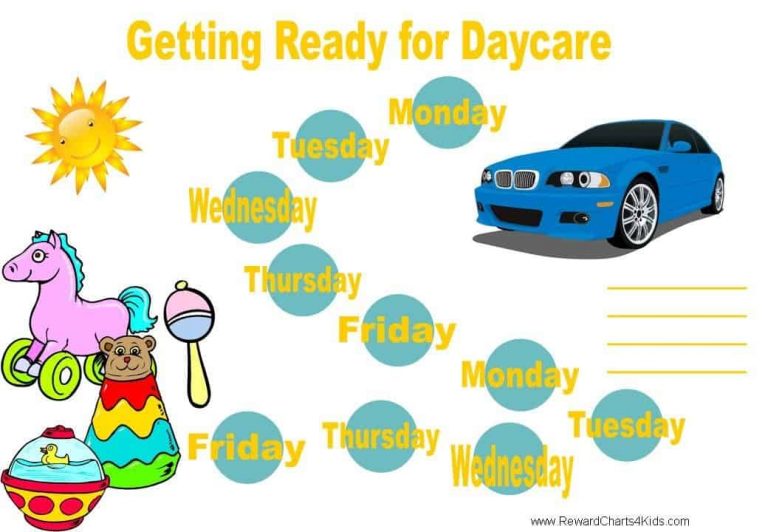 Reward chart similar to the chart above but the list of tasks is left blank so that you can fill out your own list of morning tasks. You can either fill in the list after you print or customize it online before you print.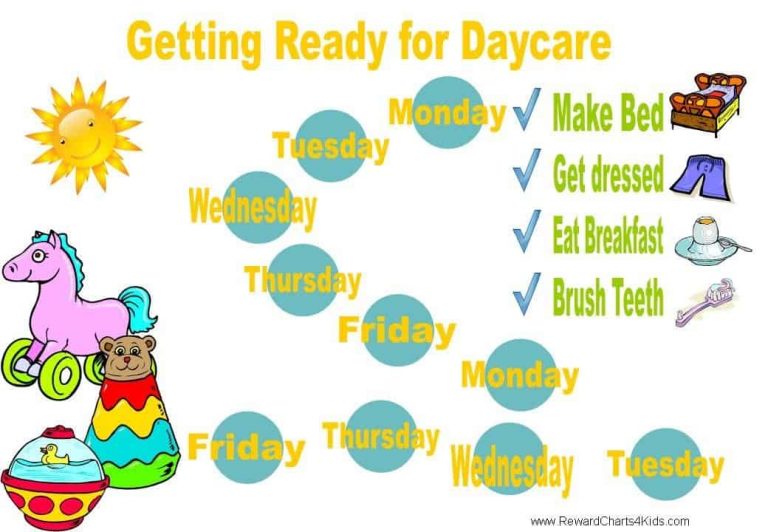 This
reward chart
is for kids who cannot read. It includes pictures describing their morning tasks.
Sticker Chart for Kindergarten
Reward chart
to help young kids get ready for day care or preschool in the mornings with list of tasks to do in the morning (make bed, get dressed, eat breakfast and brush teeth)
How to Use Routine Charts
Before you start, decide on the list of things that you would like them to do in the morning. Discuss your expectations with your child. Write the chore list on your reward chart. Decide ahead of time what the reward will be if there will be a reward. It can be a small toy, a visit to their favorite park, an outing to the zoo, or anything that you decide on together. Some children are happy to receive stickers and don't even ask for a reward. You can decide that your child needs to receive a certain number of stickers to get the reward. If she doesn't get enough stickers you can make the reward smaller or give a partial reward. For e.g. in order to get your full allowance, you need 10 stickers. If you get 60% of the stickers you get 60% of the allowance. There are many ways to decide on a reward system. Find one that works for you and your kids.