You can download and use each printable chore chart template on this site for free. You can also find tips on:
How to use a chore chart for kids;
The chores kids can be expected to do;
How to encourage them to do their chores without having to beg!
Chore Chart Maker
With our free chore chart maker you can:
Change the background and the theme.
Add clipart with various topics such as princesses, superheroes, space, and many more.
Add your chore list and edit the text.
Insert your child's photo.
Free Printable Chore Chart Templates for Kids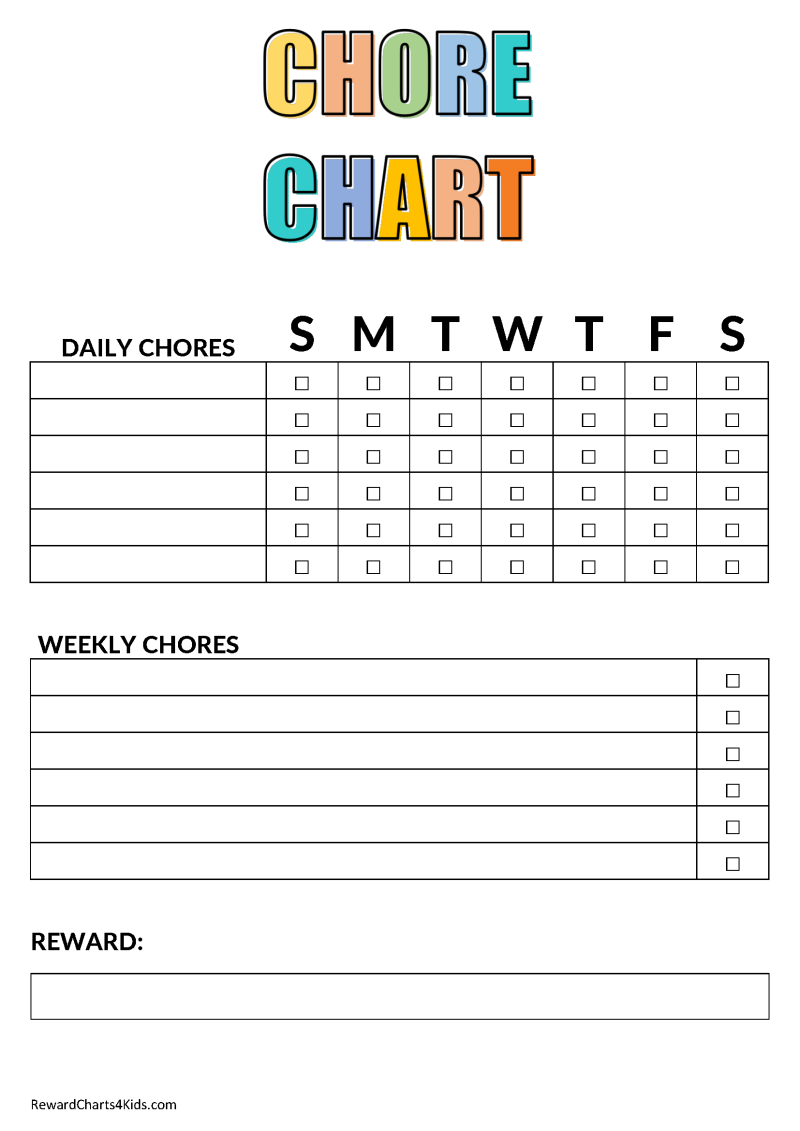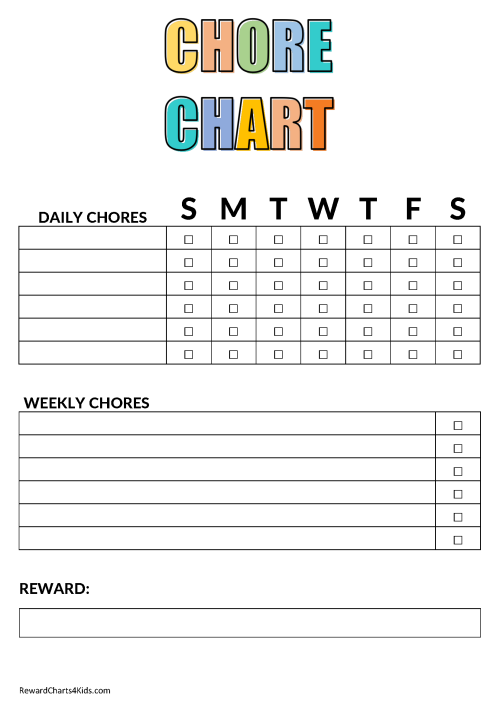 Add your child's name, photo, and chore list then print this personalized punch chart. These charts are suitable for kids, from toddlers to teens.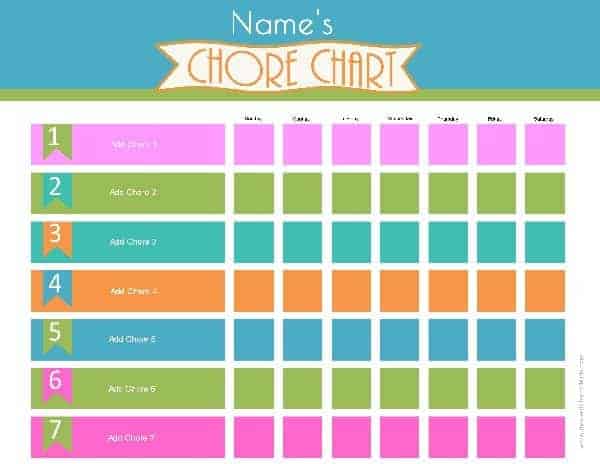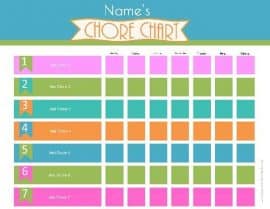 If you want to create your own editable chore chart, you will find a selection of free chore chart templates that you can edit and personalize. These charts are perfect for teens and younger children.
A selection of free printable chore charts for kids with all of your favorite characters (such as the Minions, Spiderman, Lego, Star Wars, and many others). These are great for toddlers and older kids.
A selection of free printable chore charts for boys with Spiderman, Ninjago, Superman, Batman, ninjas, and more! Perfect for toddlers and young kids.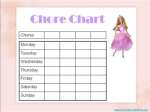 A selection of free printable chore charts for girls with Anna, Elsa, Barbie, Bratz, princesses, fairies, and other girly characters! Perfect for toddlers and young kids.

Suggested age-appropriate chores list for kids with a printable chart. The list includes chores for toddlers, kids, and teenagers.
Print your chore chart on a magnetic sheet, and use it repeatedly. You will need to purchase magnetic paper, but it might work out cheaper in the long run since it will last forever. These charts can accommodate many children on one page and can thus be used in the classroom or as a family chore chart.
If you are trying to get your entire family to help around the house, then family chore charts might be the perfect solution. There are various templates for different sized families.
Chore Chart Templates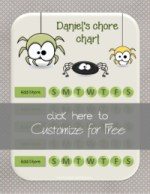 Free chore charts with cute animals, you can make free printable personalized chore charts with your photos, titles, and your very own custom chore list. There are many designs available, and therefore, they are suitable for toddlers to teens.
Add your photo and chore list to this personalized chart.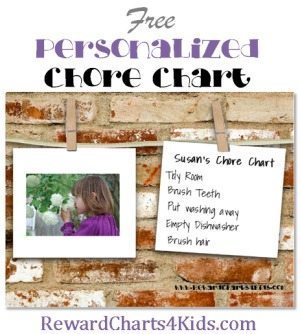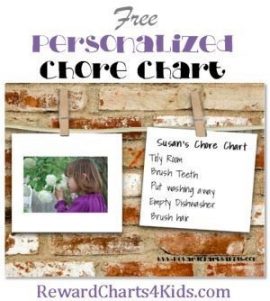 Chore Wheel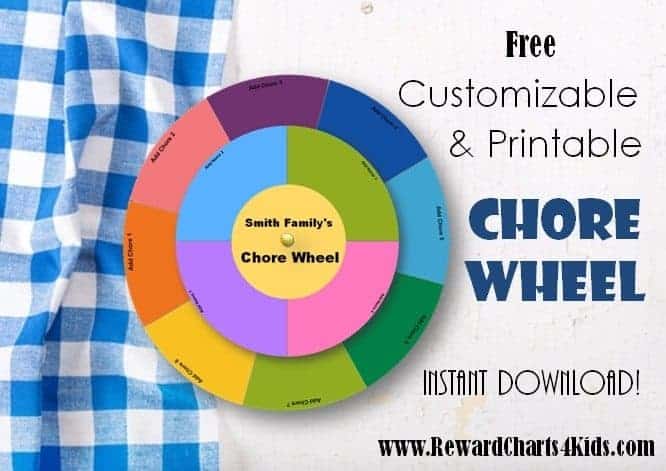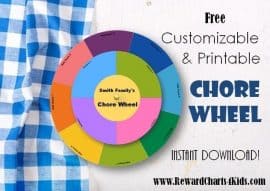 Create this DIY personalized chore wheel. You can customize it online before you print it. Type in your family name and the chores that you want to allocate and then print and assemble according to the instructions.
It's a fun and fair way to delegate chores!

Color these black and white chore charts before you use them. When kids decorate their chart, it gets them involved and makes the process fun!
Another way to reduce printing costs is to have your chore chart laminated or slide it into a page protector. The chart can then be reused each week without having to print a new copy each week. Use an erasable marker to mark the chores once complete. Some smudge and others don't. Some are easier to erase than others. Find one that works for you.
If having a new chore chart each week with a different design or character is going to help your kids do their chores, then I would print a new copy each week! See what works for you and your family.
---
10 Ways to get your kids to do chores without you having to nag. Yes, it is possible!
---
Some parents worry if kids should be asked to do tasks at home. Did you know that there are at least nine reasons why kids will actually benefit from doing their chores!
---
How to use a Chore Chart
The more you involve your child, the more successful the entire process will be. Consider holding a family meeting to introduce the chore system and set the rules. List the chores that need to be done together and divide them up fairly, taking into account each family member's responsibilities, capabilities, available time, etc.
Allow your kids to make suggestions on how to successfully implement the chore system. Once you have decided on the implementation, choose a responsibility chart together (a family chore chart or an individual chore chart for each family member, etc.).
This section of the site includes additional info such as: Why use chore charts? How to use them, age-appropriate chores, and tips on creating a chore list for each child.
Tips:
If you want your kids to cooperate and help you implement the chore chart system, get them involved in the process.
Let them choose their chore chart, give them some optional chores to choose from, let them decide when the deadline for tasks will be, how many jobs they think they can handle, etc. The more involved they are, the more they will cooperate. If your child chooses the task that he has to do, then the chances are higher that he will do it!
Adapt your chores to your child.
You might find that your child cannot do all of the age-appropriate chores that other kids his age can do. You might need to teach your child how to pack a dishwasher or how to vacuum. Some kids are not capable of doing specific tasks even though they should be able to perform them. You can try and show him how to do it if you think that it will help, but if not, it might only cause frustration. There are enough chores that he can handle. Move on and find something that he can do.
Let your kids choose the prize, privilege, or reward that they will receive if they do their chores.
They can either choose a privilege or small prize or something that you do together as a family, such as going out for ice cream. You might need to intervene and ensure that the reward is reasonable. Once you have agreed on the prize, don't forget to follow through! You certainly wouldn't like it if you worked all week and then your boss couldn't be bothered to give you your salary!
Make sure that your child knows how to do the chores that you are expecting him to do.
Sometimes we assume that they know how to do something, and they don't. Making a bed, putting dishes in the dishwasher or folding laundry might seem trivial to us, but it isn't self-explanatory. Show them how to do each chore and watch them doing it to make sure that they understand what you expect from them. In the beginning, you can do the tasks together to ensure that your child knows exactly what you expect of him.
If your child is not interested in doing chores but wants to do something else, you can explain that they can do whatever they want once they have completed their duties. For example, I understand that you want to go over to your friend, but you have to tidy your room first. This is often the most effective way to get kids to do something. Some children need instant gratification, and they need to know what is in it for them right away.
Start with a few chores and gradually increase them as your child learns to cope with them and gets older.
If you have never asked your child to do chores before and you suddenly present him with a chore list, it might be a little overwhelming. Start with one or two and gradually increase them as your child becomes more proficient. Make sure that your child is physically capable of doing the chores that you have asked him to do. Some tasks seem simple to us, but they are quite tricky for kids.
Try and get your family to work together as a team when getting things done.
It teaches kids how to work together, how to deal with possible conflicts, and about being part of a group with a common goal. Often it is easier to have each person do their own chores, but learning to work together can be a great lesson to teach your kids!
Even young kids want to help out, particularly when their older siblings have chores to do.
It helps them feel grown up and develops their sense of responsibility and self-esteem. You can give them basic chores that they can do, such as picking up toys or feeding your pet. They will feel that they are also contributing and helping out! Sometimes you give your child a chore to do, and it takes longer than if you would have done it yourself. Be patient. They will become more proficient, and it will eventually actually help you.
If your child sees that you or your spouse don't complete household chores, then they will do the same. Once you decide what tasks need to completed by a specific time, then this should apply to everyone. If your child sees you leaving your things around the house, then you can't expect her to put her belongings away.
Hang the chore chart somewhere central, where it will be seen by all family members every day.
It could be on the fridge, on the front door, or even in your kid's bedroom. If you don't see the chart, you might forget to implement the chore chart system. Consistency is the key! You can either use an individual chart for each child or have a family chore chart for the entire family.
Print a few of our free editable printable chore charts so that they are ready to use when needed.
Do you use chore charts? Do they help? Please comment below.