Teacher of the Year Awards
Print the following award certificates to let your teachers know that they are the best! There are a few different versions of these award certificate templates: Teacher of the Year Award, Awesome Teacher, Super Teacher, etc.
If you would like to type the details before printing the certificates then you can find a version that can be personalized at Creative Certificates. If you would like to make the certificate even more special you can print it on parchment paper or have it framed.
Teacher of the Year Award Certificates
Awesome Teacher Award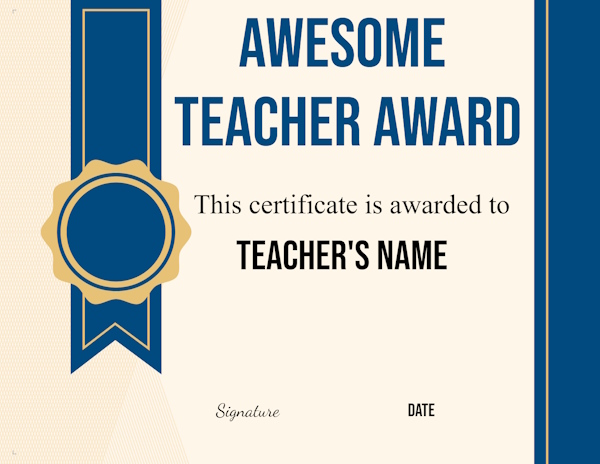 Super Teacher Award
World's Best Teacher Award
Best Teacher Award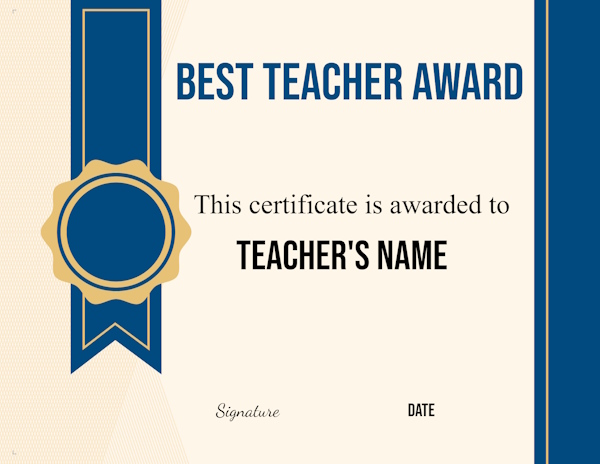 Greatest Teacher Award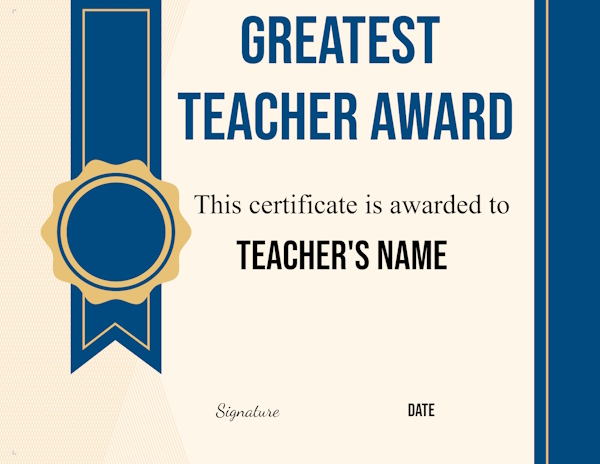 In addition to a printable award certificate you might want to create some of these DIY end of the year teacher gifts.
Teacher Appreciation Printables
10 ways for students to show teacher appreciation
Showing teacher appreciation is a wonderful gesture that can be done in various ways. Here are some ideas to show your gratitude and appreciation towards teachers:
Write a heartfelt note: Take the time to write a sincere and thoughtful thank-you note expressing your appreciation for their hard work, dedication, and the positive impact they've had on your life. Be specific about the things you appreciate most.
Personalized gifts: Consider giving your teacher a personalized gift that reflects their interests or hobbies. It could be a customized coffee mug, a book related to their favorite subject, or a handwritten poem or piece of artwork.
Organize a class surprise: Collaborate with your classmates to organize a surprise for your teacher. It could be a small celebration, a group gift, or even a surprise visit by former students to express their appreciation.
Share positive feedback: Speak up and let your teacher know directly how much you appreciate their efforts. Share specific examples of how they have influenced your learning, growth, or confidence. Positive feedback can be incredibly meaningful.
Volunteer your time: Offer to assist your teacher with tasks or projects they need help with. It could be setting up the classroom, organizing materials, or helping with extracurricular activities. Your willingness to lend a hand shows your appreciation and support.
Participate actively: Show your appreciation by actively participating in class, asking thoughtful questions, and demonstrating your commitment to learning. Teachers appreciate students who are engaged and enthusiastic about their education.
Support their initiatives: If your teacher is involved in any outside projects or initiatives, show your support by participating or spreading the word. It could be attending a school event, joining a club, or supporting a cause they are passionate about.
Share your success stories: Reach out to your teacher after you've achieved something significant and let them know how their guidance and support contributed to your success. Sharing your accomplishments can be incredibly rewarding for both you and your teacher.
Involve your parents: Express your appreciation to your teacher in front of your parents or guardians. They can also contribute by sending a note or expressing their gratitude personally. Involving your parents shows that the appreciation comes from the entire family.
Follow up after graduation: Stay in touch with your teachers even after you've moved on to higher grades or graduated. Drop them a message or email occasionally, updating them on your progress and letting them know the positive impact they continue to have on your life.
Genuine gestures of appreciation go a long way in making teachers feel valued and recognized for their hard work and dedication.