Chores can help a 14-year-old child in a number of ways. They can teach them time management, responsibility, how to take care of themselves, and how to acquire basic skills such as cooking and cleaning. It also teaches discipline and patience.
The chores should be age appropriate. For example, some tasks that might be appropriate for a 14 year old include folding laundry, vacuuming the living room, washing dishes or setting the table. There are many more options in the chore list below.
Chores are a daily responsibility that can help a teenager be more prepared for adulthood. It is important that teenagers do chores because they will have to take on responsibilities as adults. They will need to know how to go grocery shopping, cook a meal, and clean up after themselves. Chores are learning opportunities to prepare 14 year olds to become independent and self reliant.
If you have a 14 year old who is playing video games all day while you work, giving them chores will get them away from the screen and doing something productive for them and the family.
14 year olds should also start learning how to manage their time responsibly. When they learn how to balance their chores with their other responsibilities they will be better equipped to know how to manage their time when they have more responsibilities as young adults.
Chore List for 14 Year Olds
Here are some age appropriate chores for a 14 year old:
Clean bathrooms (sinks, baths and floors)
Tidy closets
Clean up after meals
Put groceries in their place
Vacuum the floors
Clean the floors
Empty trash cans and take our garbage
Water plants, remove weeds and plant flowers
Set the dining table
Wash up after a meal
Routinely make their beds
Feed pets
Rake leaves
Sort recycling
Sweep and clean porches
Scoop pet waste in the yard and clean
Neatly make their beds regularly
Clean their own bedroom
Make and pack their lunch
Fold clean clothes and put in closets or drawers
Strip bed linens
Shine mirrors in the bathroom
Set alarm clock and be responsible for waking up on time
Help dress a younger child
Entertain a younger sibling
Brush and walk a dog
Clean cat litter box
Prepare simple meals
Deep clean the toilet
Bring garbage cans to the driveway or curb
Assist with repair works
Clean the stovetop
Mow lawns with supervision
Complete homework without being reminded
Keep bedroom tidy
Straighten family and playroom
Set and clear dinner table
Do simple sewing tasks
Change their bedding
Loading and emptying the dishwasher
Trim hedges
Organize an entire room
Grocery shopping with a shopping list under supervision
Vacuum the entire floor
Clean out fridge
Mop the floor
Supervised baking and cooking
Fully responsible for laundry
Independent cooking and baking
Mind younger siblings when parents are not home
Buy groceries with a list at hand
Wash windows of the house
Trim hedges
Paint fences or walls independently
Mow lawns without assistance
Tuition younger siblings
Help younger siblings with homework
Chore Chart Maker
You can make many free custom chore charts with our free app.
Chore Chart for 14 Year Old
Add your child's name, photo, and chore list then print this personalized punch chart. These charts are suitable for kids, from toddlers to teens.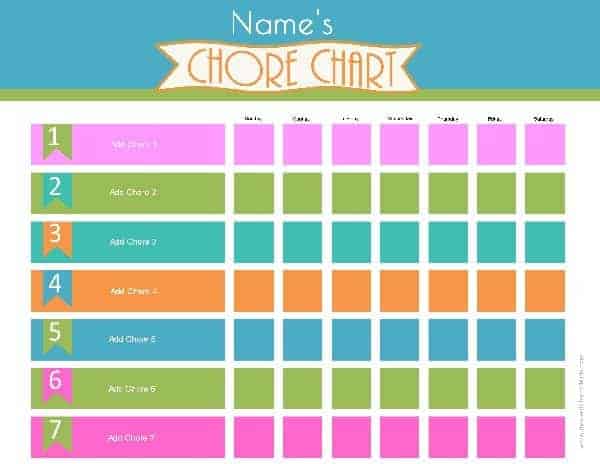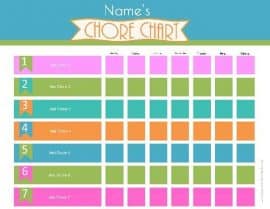 If you want to create your own editable chore chart, you will find a selection of free chore chart templates that you can edit and personalize. These charts are perfect for teens and younger children.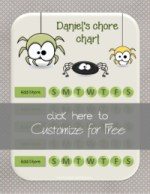 Free chore charts with cute animals, you can make free printable personalized chore charts with your photos, titles, and your very own custom chore list. There are many designs available, and therefore, they are suitable for toddlers to teens.
Add your photo and chore list to this personalized chart.
Jobs for 14 Year Olds
Babysitting: Many parents are often looking for responsible teenagers to take care of their children on an occasional basis.
Pet sitting or dog walking: If you love animals, you can offer your services as a pet sitter or dog walker for neighbors or friends.
Lawn mowing and yard work: Offer to mow lawns, rake leaves, or help with basic yard maintenance for people in your community.
Newspaper delivery: Contact your local newspaper to see if they have any delivery routes available for young workers.
Tutoring: If you excel in a particular subject, you can offer tutoring services to younger students who need extra help.
Retail or food service: Some restaurants, cafes, or retail stores may hire 14-year-olds for limited tasks such as cleaning, stocking shelves, or assisting customers.
Camp counselor or assistant: Look for opportunities to work as a junior counselor or assistant at local summer camps or youth programs.
Farm work: If you live in a rural area, you might find opportunities to help out on local farms or orchards during harvest seasons.
Car washing: Offer car washing and detailing services to neighbors and friends. You can either go to their homes or set up a car wash station in your own driveway.
Gardening and landscaping: Help people with their gardening needs, such as weeding, planting flowers, or maintaining their outdoor spaces.
Computer assistance: If you have good computer skills, offer to help older adults or less tech-savvy individuals with basic computer tasks like setting up email accounts or troubleshooting software issues.
Arts and crafts sales: If you're creative, make handmade crafts or artwork and sell them at local fairs, farmers' markets, or online platforms.
House cleaning: Assist with light household chores like dusting, vacuuming, or organizing for busy families or older individuals.
Sports coaching or referee: If you excel in a particular sport, you can offer coaching services to younger kids or volunteer as a referee for local sports leagues.
Event assistance: Help with event setup, cleanup, or serving refreshments at parties, community events, or fundraisers.
Online freelancing: Explore online platforms that offer freelance opportunities for young individuals, such as writing short articles, designing graphics, or providing virtual assistance.
Language tutoring: If you are fluent in another language, offer language tutoring services to students who are studying that language.
Social media management: Many small businesses and organizations need help managing their social media accounts. If you're familiar with platforms like Instagram or Facebook, you can offer your services to create and schedule posts.
Library assistant: Offer your help at the local library with tasks like shelving books, organizing materials, or assisting with children's programs.
Car detailing: Provide car detailing services, including cleaning interiors, washing exteriors, and polishing vehicles for neighbors or family friends.
Community center or church assistant: Volunteer at your community center or local church to assist with organizing events, setting up decorations, or helping with administrative tasks.
Photography services: If you have a knack for photography, offer your services for small events like birthday parties, family gatherings, or school functions.
Musical instrument lessons: If you're skilled in playing a musical instrument, offer lessons to beginners or younger students who want to learn.
Recycling collection: Offer to collect and sort recyclable materials from neighbors and take them to the local recycling center.
Technology assistance for seniors: Help older adults with basic technology tasks like setting up smartphones, using email, or navigating social media.
Errand running: Offer to run errands for busy individuals or elderly neighbors, such as grocery shopping, picking up prescriptions, or dropping off packages.
Blogging or content creation: Start a blog or YouTube channel where you share your interests and expertise. Once you have built an audience, you can explore monetization opportunities.
Local theater or production assistant: Volunteer at a local theater or production company, helping with tasks like set construction, costume organization, or ushering during performances.
Remember to check any age restrictions or requirements for each job, obtain any necessary permissions or permits, and prioritize your safety and well-being while working. Always make sure the job responsibilities are appropriate for your age and abilities.