A child must learn to do chores from an early age. A six-year-old is able to do some things around the home to help out. It will help your child learn responsibility and they will learn how to do things by themselves as they grow.
There are many chores that a six-year-old can do around the home. They can learn how to set the table and put a plate and utensils for everyone in the family on the table. They can put some lighter items such as salt and pepper shakers and the salad dressing on the table too. The child can help clear the table after dinner. They can bring silverware and cups to the kitchen. You can have the child help you load and unload a dishwasher. They may need some help in getting everything to fit in properly.
Young children can help sweep up the floor. You may need to go back over it but they should be taught how to make a good attempt. A child can put their laundry in the washing machine and you can show them how it operates. They can assist you with this chore even if they can't do it on their own yet.
Once the child is done playing they can learn to put their toys away. They should be responsible for their own items and need to learn the importance of picking them up once they are done playing. The child can also learn how to make their bed so they do it correctly. You may need to show them how to do this a few times before they catch on.
The child can help outdoors too. They can help rake leaves in the fall. Most children like to be outside so they can help out. If you have a garden in the summer you can have the child help you with tasks such as watering the garden and weeding it.
Chore List for 6 Year Olds
Here are some age appropriate chores for a 6 year old:
Discard trash away
Store toys in a toy container
Place books on the shelf
Assist with table setting
Deliver light objects
Pick up blanket or pillow from the floor
Dust shelves or boards
Straighten bed sheets and tidying up pillows
Put clothes away in a hamper
Get dressed
Put on shoes
Brush teeth, wash face and brush their hair
Tidy up properly after play
Wipe down play table
Clean up small rubbish or paper scraps
Wipe small spills
Load and transfer the laundry
Pack bag for school
Unload silverware and cutleries (avoid or supervise children when handling sharp objects)
Sort clean clothes according to types
Clean up after a meal
Return milk carton for items into the fridge
Line up shoes
Hang coats, jackets, and hoodies
Move groceries to the kitchen
Pick their outfit
Fold washcloths, rags, and socks
Vacuum the floor
Empty small trash cans
Water plants and weed gardening beds with supervision
Wipe the sink after brushing their teeth
Change toilet paper roll
Set the dining table
Clear up plates after a meal
Dust shelves, bookcases, and picture frames with more precision
Pull garden weeds unassisted
Peel potatoes with a child-safe tool
Unpack groceries from shopping bags
Vacuum or sweep the floor
Help you put the groceries away
What if your six-year-old cannot do these chores?
It is important that you find chores around the home that the child is able to do based on their physical and mental abilities. From a young age, a child should learn how to put away their toys. If your child is struggling there are some things that you can do to help them. You need to model the chore for them so they know what is expected of them and how to do it. You can also adapt the chore to help them complete it. The child can give it their best then you can look it over and make corrections as needed. You can have them assist you with certain tasks. You need to adapt the chores based on their age and their unique needs.
If your child is capable of many different chores then you can allow them to choose their chores from the chore list below. According to Child development specialists Carla Poole, Susan A. Miller, Ed.D., and Ellen Booth Church, six-year-old children are becoming more conscious of decision making. They enjoy this responsibility and take it very seriously. Let them choose chores from among those you consider to be age-appropriate and acceptable chores for their age and their specific capabilities.
Chore Chart for 6 Year Old
Chore Charts with Pictures
Free printable chores charts with pictures that you can upload. Since six year olds cannot usually read yet you can add photos that will describe each chore or task.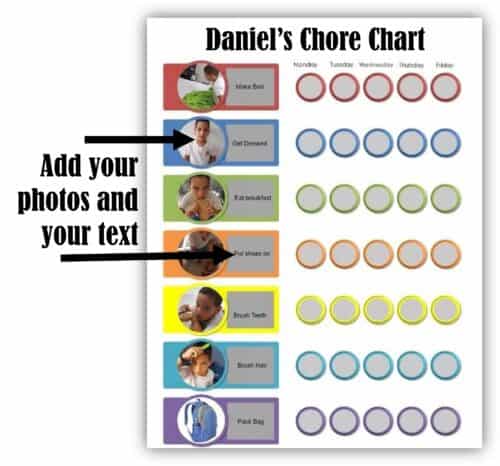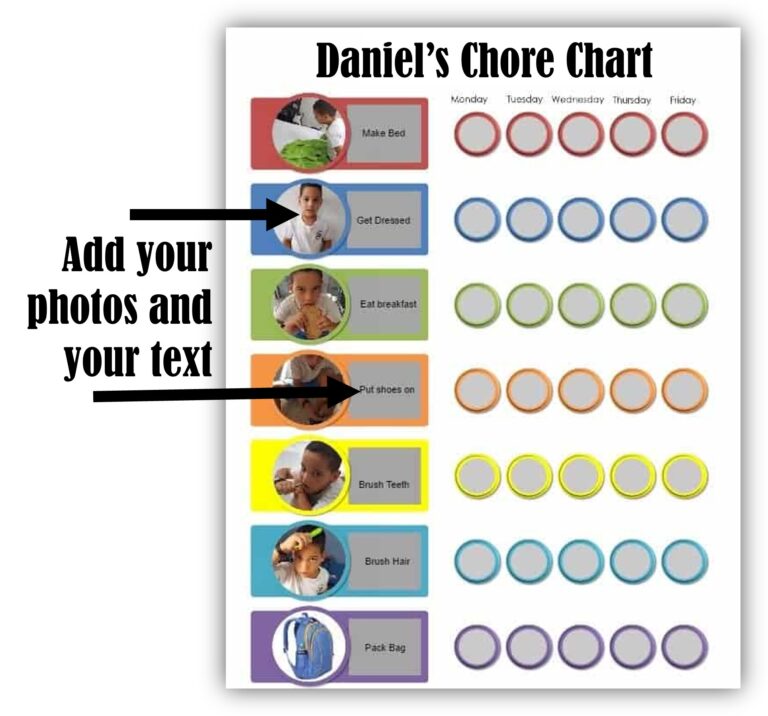 With our free chore chart maker you can make your own customized chore charts. You can edit the text, select the background and clipart and add your chore list. You can also add your child's photo to some of the chore templates.
Chore Charts with Characters