Music practice chart
Most music teachers recommend that students practice on a regular basis and some even request that their students practice every day. As in most aspects of life, practice makes perfect. Often, this is easier said than done. How do you get your children to practice when they have so many things they prefer to do. Nagging and begging is both tiring and inefficient. A piano practice chart is often used to motivate kids to practice and/or keep track of the time spent playing the piano.
How is a music practice chart used?
Firstly, you determine how often your child needs to practice the piano or any other musical instrument (such as a guitar or violin). Make sure that your expectations are clear to your child or student. Each time the child practices for the required time her piano practice chart is marked accordingly. You might want to reward your child once the chart is complete. You could offer to take your child to a concert or do something fun together. Providing an incentive is often more effective although, for some students, completing their piano practice chart is motivating enough!
Piano Practice Chart
10 Times or 10 Days
On the following sticker charts, you can mark ten practices.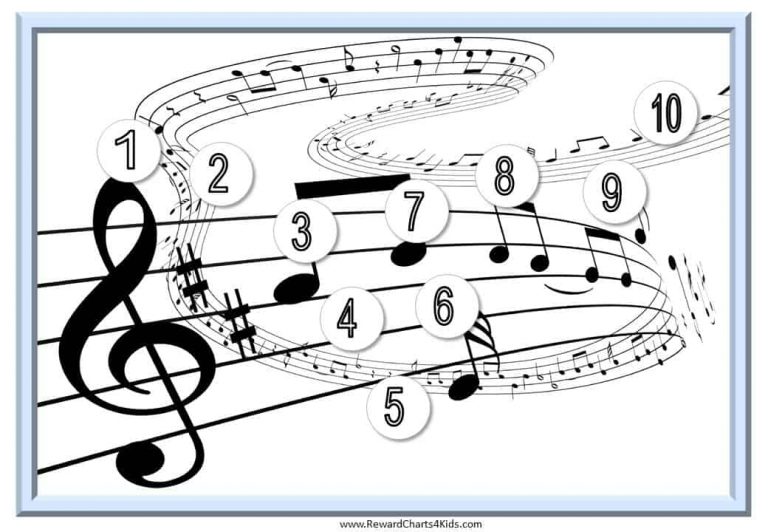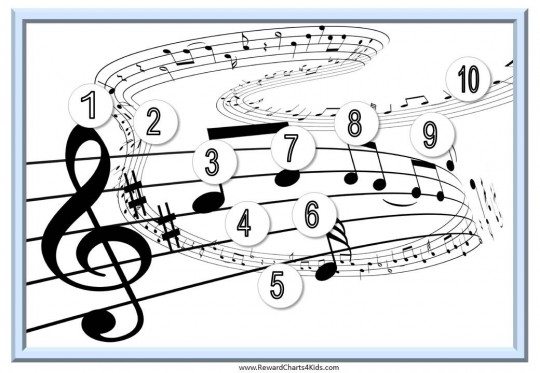 This piano chart has 10 steps. You can use it to reward a child for practicing the piano 10 times or for good behavior for a child who likes the piano.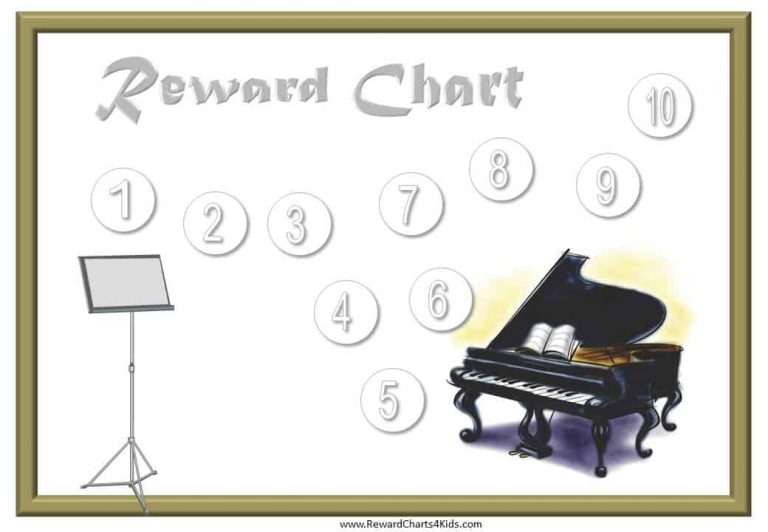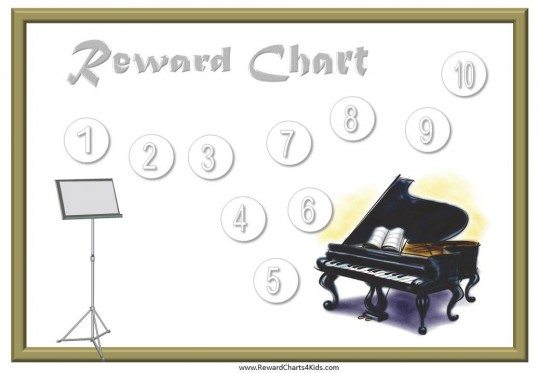 This chart is suitable for adults as well as kids.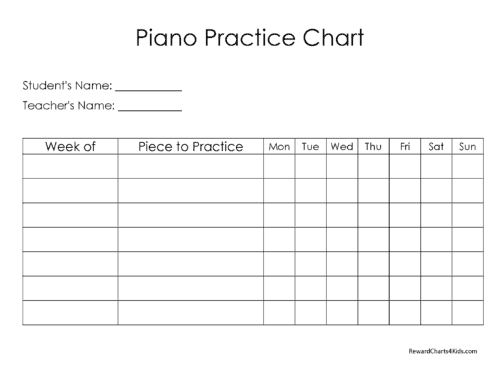 With this chart the teacher assigns a piece to practice each week. The students either mark each day they practice that piece or write the number of times they practiced it each day.
Image | Editable PDF | Word
Weekly Chart
This is a weekly piano chart. You can schedule piano practice every day or however many times you want per week. Use the chart to track practice or progress.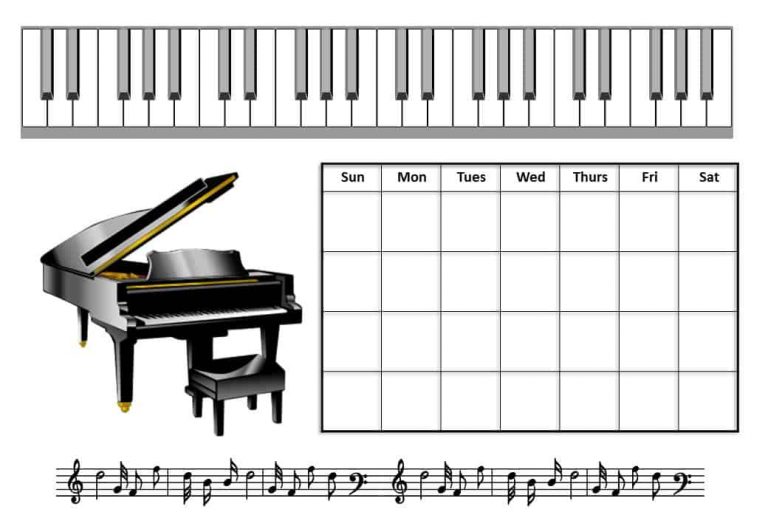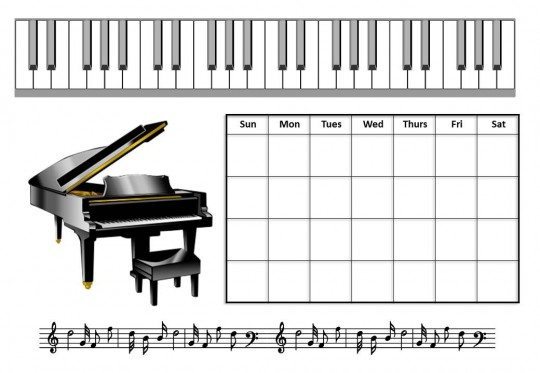 Monthly Chart
How to Use the Piano Practice Chart
Select the template that you would like to use.
Write your expectations on the chart (for example to practice 4 times a week for 30 minutes each time).
Mark each time the goal is reached.
10 Ways to Motivate Your Child to Practice the Piano
Wondering how to motivate your child to practice the piano? Check out these tips to encourage your child to play without nagging.

If you've signed your song or daughter up for music lessons, it can be frustrating when they're not interested in doing their lessons. Here are a few tips to help make the process a little bit easier for everyone.
Make piano practice more fun
Children will enjoy their music lessons if you make the activity fun for them rather than a chore. Why not let them learn a few of their favorite songs or at least a few keys from it.
If you're just starting out, you'll need to experiment with the techniques that work best for your child. Don't give up too quickly. But, if it doesn't seem like a good fit for them, it may be time to try something new.
Try Using Apps
There are also a variety of fun apps that will let your child practice on a tablet or smartphone in an interactive way. This may be just what you need to get them interested.
Encourage your child to play instead of forcing
Forcing your kids really isn't the answer. If you force them to do their lessons they will end up resenting you and being even more resistant to doing it.
Instead, try gentle encouragement and make it part of your daily routine. Try to make the lessons fun rather than work.
Use rewards
It's perfectly fine to use rewards to encourage them to complete their lessons. You can print a reward sheet from the selection above and give them a star for every day they practice.
Then, at the end of the week, let them turn their stars in for a fun activity you know they'll enjoy. This can be a great way to offer encouragement.
Make piano practice a part of everyday routine
As with any new skill, repetition is key. Your son or daughter should play 6 days a week so they develop a routine. But, don't force them to sit there for an hour.
Younger children (ages 5 to 6) really only need to play 15 minutes a day. An older kid (ages 9 to 10) can practice 30 minutes. And, teenagers should be able to spend an hour playing.
Do what works for your child
Be flexible and do what works for your child. Is she only wants to practice for 10 minutes then don't force her or she will stop practicing all together.
Organize performances
Let children play for your family and friends and offer encouragement and positive reinforcement. Applaud and let them know how much they have improved. This will motivate them to continue practicing.
Let them choose the music they learn to play
Many teachers insist on choosing the songs. If the child does not enjoy learning how to plan that song it will not be as effective. Let them choose the songs.
Find the right teacher
The first time my son started learning how to play the piano he hated it and never wanted to go. He hated the teacher and hated the piano. A few months later we tried a new teach who he connected with right away. Suddenly he loved going to piano lessons and never asked to miss again.
Ask your child to plan his time schedule
Put him in charge and he will take responsibility. If you make him do something he will try to get out of it. Let him set his own schedule and decide which days to practice on and what time. If he doesn't do it, remind him that this was his choice and if he is not going to stick to his schedule then you will set a schedule that might not work as well for him.