You will find three different Star of the Week Poster templates on this page. You can customize them online with no registration required. You can then download and print them at home, at school, or at your local printer. You might also want to prepare a star of the week certificate.
Star of the Week Poster – with Photo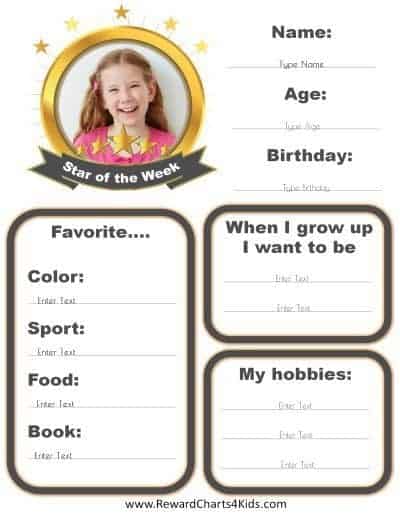 This is a high res file that you can print as a poster or on regular printer paper. There are two versions of this poster. You can either upload the child's photos and type out all questions before you print the poster or upload the photo only and have the child complete the questions in his or her handwriting. You can also send the student the link and ask him or her to prepare the poster at home.
Two Versions:
Customize Text and Photo Online
Add Photo Only (text will be handwritten)
Star of the Week Poster without Photo
This poster has text only. You can either print an empty poster and fill in the text or customize online and download the complete poster.
Star of the Week Poster with Photo and Name only
Student of the Week Poster
Tip: Since you can edit the text, you can use these poster templates to create a "Student of the Week Poster". We suggest you keep track of who the star student of the week was each week to ensure that every student gets a chance.