How Much Computer Time should you allow your child?
According to the American Academy of Pediatrics (AAP), studies have shown that excessive media use can lead to attention problems, school difficulties, sleep and eating disorders and obesity. The AAP suggests that TV and computers be avoided for infants and children under age 2. They recommend limiting older children's screen time to no more than one or two hours a day.
Suggested age-appropriate computer time limits
The following computer time limits are only suggestions. You may want to increase or decrease the time limits that you feel are suitable for your children.
 
Weekday
Weekends
Infants Up to age 2
No TV or computer time
No TV or computer time
Toddlers 
Up to 15 minutes (although it is recommended to keep this to a minimum)
Up to 15 minutes (although it is recommended to keep this to a minimum)
Parental involvement required
Parental involvement required
Preschool 
Up to 30 minutes
Up to 30 minutes
Parental involvement required
 Parental involvement required
Elementary School 
Up to 60 minutes
Up to 90 minutes
Parental involvement recommended
Parental involvement recommended
Extra time might need to be allotted for school work
Extra time might need to be allotted for school work
Junior High/Middle School 
Up to 90 minutes
Up to 2 hours
Extra time might need to be allotted for school work
Extra time might need to be allotted for school work
High School 
Up to 2 hours
Up to 3 hours
Extra time might need to be allotted for school work
Extra time might need to be allotted for school work
How to limit your child's computer use
Limiting your child's computer use is not an easy task. You are often busy with other activities such as making dinner, doing homework with a sibling or other household chores. You can't always keep track of the time each child has spent on the computer. Your child, on the other hand, is often engrossed in a game and honestly does not know how much time has passed. Sometimes he might be aware that he has spent more time on the computer than he is supposed to but other times he doesn't even realize how much time he has wasted on the computer. Tracking computer time is not easy for both children and parents. In this day and age when technology is so advanced I don't think that we should even worry about tracking computer time. We have enough things to worry about. Let's get technology to do it for us.
We have an important task to set the limit for each child but enforcing it is not something that we need to bother with. Some will argue that your child should be responsible enough to track computer time herself. I don't agree. I often look at my kids when they are in the middle of a computer game. They are in their own world. They are not keeping time and if they are just about to break their personal record when the time is up they will not turn the computer off. They'll ask for 5 more minutes which turns into 10 or 20 minutes and could even turn into an hour. I would rather waste my energy doing something more productive for them than track each child's computer time.
5 Ways to Limit your Child's Computer Time
1)     Use a computer usage tracking chart (free printable). This can track the time that each child spends on the computer. It can also divide the time up equally if your children share a computer. It will save arguments over whose turn it is.
2)     Set a timer with an alarm when your child starts using the computer.
3)     Burn a CD with some of your child's favorite songs so that the length of the CD is as long as the computer time limit.
4)     Allow them to earn extra computer time for good behavior, doing additional chores, getting along well with siblings, etc.
5)     Use software to track the time for you. See list of free parental control software below.
Free Parental Control Software to limit computer time
1)     Windows and Apple offer several options to limit computer time.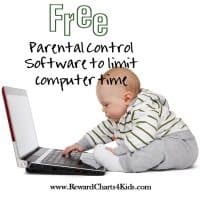 Did you know that Windows offers Parental Controls to help manage how your children use the computer. You can set limits on the time that your child spends on the computer, the games he or she can play, and the programs they can run.
How is it done? It depends on the version of Windows that you run. Click on your version to find detailed instructions and a video on how to set the parental controls.
2)     Qustodio is a free application which not only limits computer time but helps protect kids online. It can be used on computers, tablets and mobile phones. It enables you to track the searches they conduct, the social sites that they visit and the people that they hang out with online. It offers a web based dashboard which presents the info in a user friendly manner.
3)     GroundHog
This is an application created by a father for his kids. It is simple to install and user friendly. It sets a computer time limit for each child. It also has a curfew system which allows you to choose when the computer can or can't be used (for example, after bedtime it will not be possible to use the computer if you add this condition).
The program is designed so that only parents can remove it or uninstall it. Parents get a password which enables them to control the limits.