Select a free family tree template for kids that you can customize online together with your child or student. It is a fun project and a great way to discover your roots. Here are a few samples of the templates available at 101familytrees.com but there are many others available on that site. They are all free and it only takes about 2 minutes to create. You can select a template with photos or with text only (i.e. the names of the family members without their photos).
Extended Family Tree with Cousins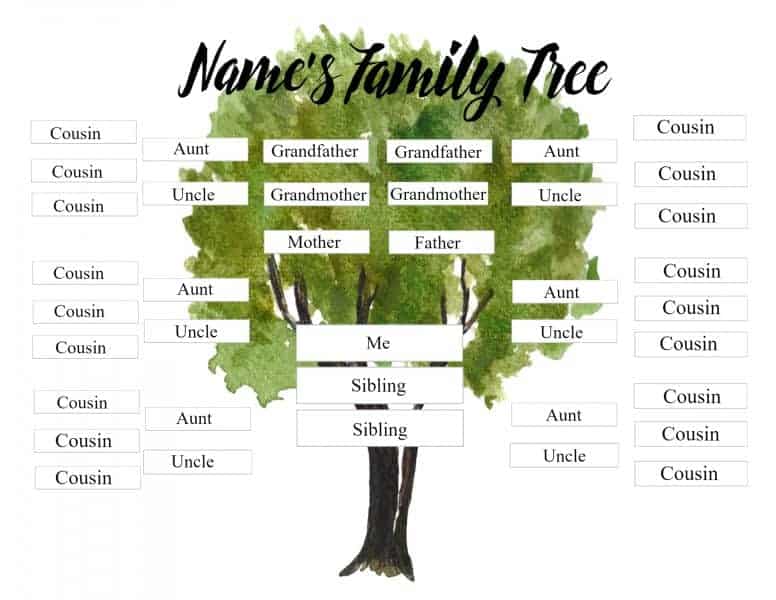 How to use the family tree maker?
Choose which of the family tree maker templates you want to use and click on "customize".
Type in the name of each family member and add a photo. It does not need to be a portrait. You can enlarge the photo to show the head only. Just drag the picture to the right or move it around to show the head only. We do suggest that you crop the photos before you upload them or use photos that are not too heavy. The family tree template is a high-resolution file with lots of detail. If you upload too many "heavy" files, it will be very slow to create. If you have already started customizing it and you find that it is slow then use smaller images or crop the images that you use.
To create a blank family tree, delete the text and photos (click on the x) and download the blank family tree. You can then fill in the details in your handwriting.
Download the family tree.
Print.
What can the family tree be used for?
This family tree template can be used for homework assignments or heritage projects when kids need to prepare a family tree.
It can make a great gift if you have it framed.
It is a fun activity to do with kids. Spend quality time creating the printable family tree together.