Father's Day Gift Ideas
Looking for something special for dad on Father's Day? We offer a large selection of free printable gift ideas for dads:
Bookmarks for Dad
Looking for father's day gift ideas? These bookmarks will let dad know that he is the best! Print the bookmarks and give them to dad on Father's Day or anytime during the year.
You can laminate them to make them more durable and / or tie some ribbon to the top of the bookmark.
Father's Day Gift Ideas – Breakfast in Bed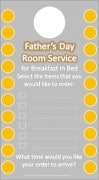 A great way to start Father's Day is to treat dad to breakfast in bed.
This free printable door hanger enables dad to choose the breakfast of his choice and the time it will be served!
Print one of these door hangers (there is a black and white and color version). Add a list of food and beverage choices for dad's breakfast. Hang it on dad's door and let him choose his breakfast and the time he wants it served. Don't forget to set your alarm clock so that you get up on time to get everything ready!
Printable Fathers Day Cards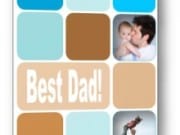 This is a free printable personalized father's day card. You can add your own photos and message before you print it.
You can add your own photos to this father's day card in 3 simple steps!
Before you start, open the fathers day card (which will open in Microsoft Powerpoint).
Step 1
Insert -> picture -> from file -> choose the photo that you would like to add.
Step 2
Move the photo so that it appears in one of the white spaces left for the photo. Make the photo smaller or bigger if necessary and move it to the correct position.
Step 3
Right click on the mouse -> order -> send to back.
Repeat the above steps with the other white space and add another photo.
Your Father's Day Card ready to be printed!
A selection of 5 different certificates for the "Best Dad". Each printable certificate can be customized online before you print. Add your own text and photos to personalize your dad's certificate.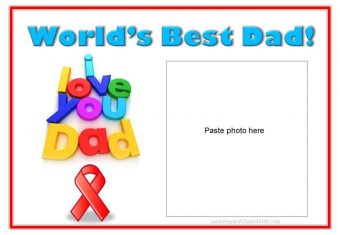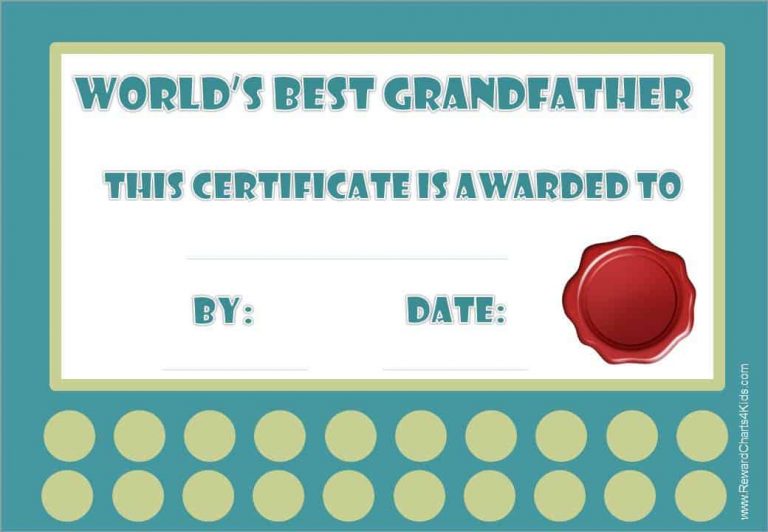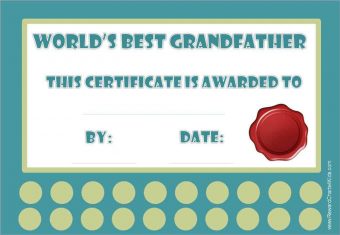 Four different printable awards to let your grandfather know how special he is!
DIY Father's Day gift ideas
Handmade photo frame: Create a unique photo frame using craft materials like popsicle sticks, cardboard, or wood. Decorate it with paint, markers, or washi tape, and add a special photo of you and your father.
Customized coffee mug: Purchase a plain ceramic mug and decorate it with permanent markers or paint. Write a heartfelt message or draw a design that your father will appreciate. Bake it in the oven according to the marker or paint instructions to set the design.
Memory jar: Fill a mason jar with small handwritten notes describing your favorite memories with your father. Decorate the jar with ribbons or stickers. Whenever your father needs a pick-me-up, he can pull out a memory and reminisce.
Coupon book: Create a personalized coupon book filled with redeemable vouchers for tasks or activities you can do for your father. Examples include cooking his favorite meal, washing his car, or offering a day of uninterrupted relaxation.
Hand-stamped keychain: Use metal stamping tools to create a unique keychain for your father. Stamp his initials, a special date, or a meaningful word onto a metal blank. Attach it to a keyring, and it will be a daily reminder of your love.
Homemade BBQ sauce or spice rub: If your father enjoys grilling, make a homemade BBQ sauce or spice rub. Package it in a mason jar or a decorative container, and include a handwritten label or recipe card.
Personalized photo book: Collect memorable photos of you and your father and create a personalized photo book. Arrange the pictures in chronological order or by themes, and add captions or anecdotes to accompany each photo.
The key is to put thought and effort into your DIY gift. It's the personal touch and the love behind the gesture that will make it special for your father.