Each time your children brush their teeth in the morning or evening they get a sticker on their sticker chart. Encourage them to brush their teeth and complete the sticker charts!
Getting kids to brush their teeth is one of our jobs as parents but it isn't an easy one. Tracking that they brush their teeth twice a day every day is even more difficult. That is why a tooth brushing chart is so helpful. It can help you check that they brush their teeth twice every day for four weeks. You can also offer a prize if they brush every single time (i.e. 28 times over a four-week period). If they do brush often but miss a few times then they can still get a prize but it will be smaller. There is space on the chart to add the prize that they will receive depending on the number of times they brush their teeth.
Free Printable Teeth Brushing Chart
Select a free printable tooth brushing chart from the selection below.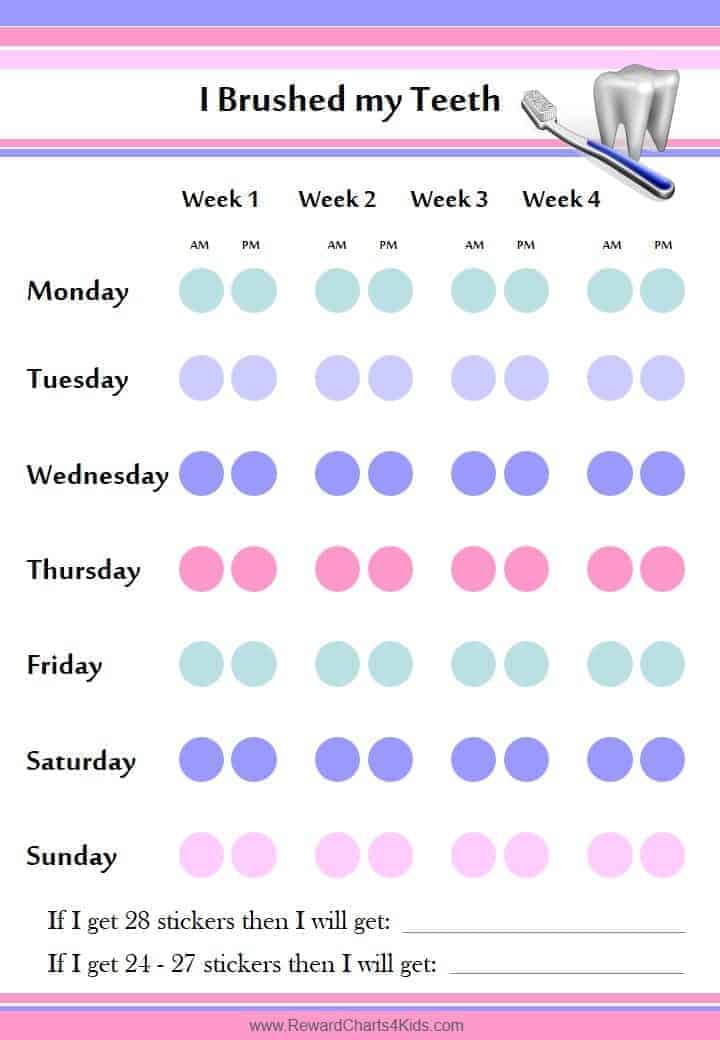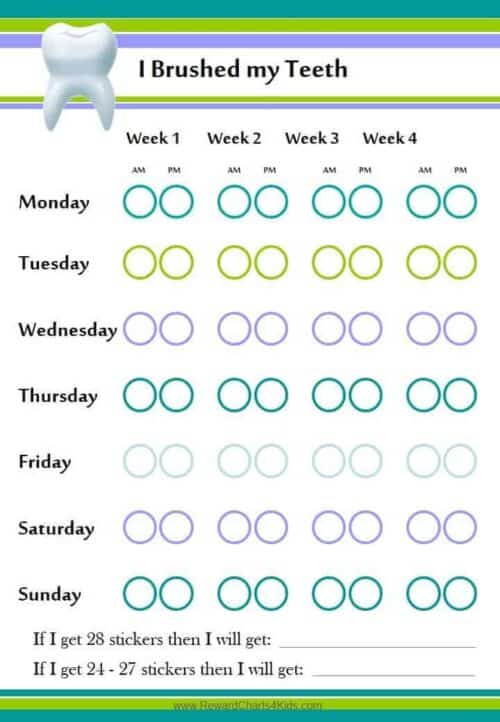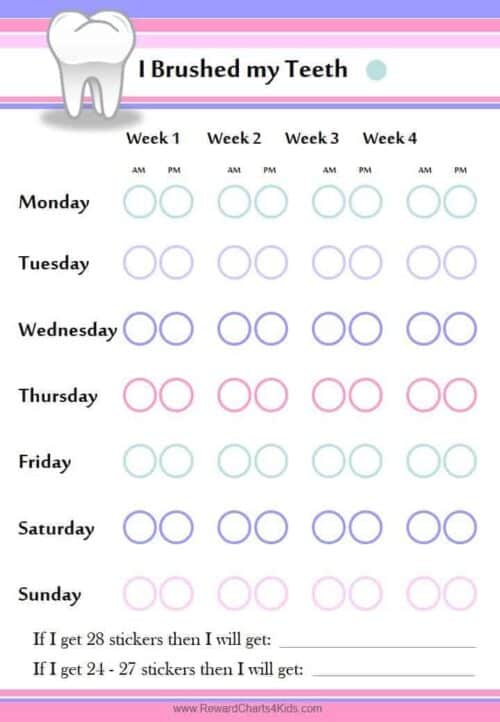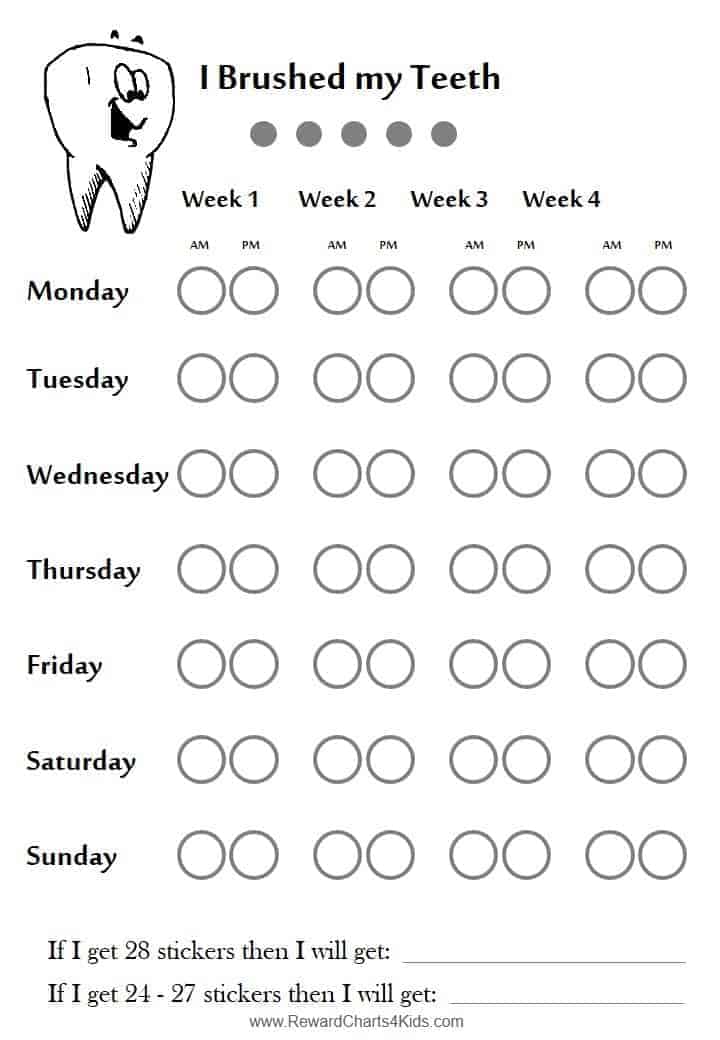 How to Use the Tooth Brushing Chart?
Sit down with your kids and explain the importance of brushing your teeth so that they understand why you are doing this.
Explain to them that each time they brush their teeth they should mark their chart. They can either use a marker or a sticker. They should only mark the chart after they brushed for 2 minutes.
Set a prize if they get 28 stickers and a smaller prize if they get less. The prize doesn't have to be big and it doesn't even have to cost money. It could be a family outing or going to sleep later. Sometimes, getting the stickers is rewarding enough. Since the prize has to keep them motivated 28 times you might have to buy something nice but it will depend on your child.
How can you encourage your kids to brush their teeth?
One of the most effective ways to encourage kids who do not brush their teeth regularly to start doing so is to provide an incentive. The teeth brushing chart on this page provides an incentive to those who brush every day and to those who brush most days. This doesn't mean that you have to provide an incentive for the rest of their lives! The idea is to reward their behavior until the new routine has become established.
In addition to motivating your children to brush their teeth, the tooth chart will serve as a visual reminder. Hang the chart somewhere they will look every day. When they see the chart, they will be reminded to brush their teeth.
Start early to build the habit as soon as possible. Many dentists recommend starting even before their first tooth comes out.
Get them to brush their teeth at the same time every day. It can be as they wake up or right after dinner. If it is tied to an activity that they do every day then it might increase the chance that they will actually brush twice a day in the long term as well.
Explain why it is important to brush our teeth. There are many good books available.
Let them choose their own toothbrush and their own toothpaste. They will choose according to the color and the character on the box but they will be more interested in using the brush and toothpaste than if you buy them the best toothbrush on the market. If you buy toothpaste and your child doesn't like the taste then buy a new brand or a new flavor. You might think it's wasteful but it certainly costs less than treating cavities!
Buy an egg timer or tooth brushing timer and keep it in the bathroom next to their brushes. This will ensure that they brush for 2 minutes which is generally considered long enough.
Some of our tooth fairy note templates have space to comment on the state of the tooth that the tooth fairy found. Remind them that the tooth fairy will check their teeth. It's worth a try!