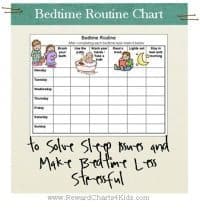 We offer a standard bedtime routine chart with six tasks before bedtime. You can also use our online chart maker to make your own bedtime chart with your specific routine. This will also enable you to use the terminology that your child is used to, whether it is "go potty," "go to the toilet," or whatever term you want to use.
A bedtime routine can help both parents and children make going to sleep a pleasant experience, according to The American Occupational Therapy Association.
Bedtime Routine Chart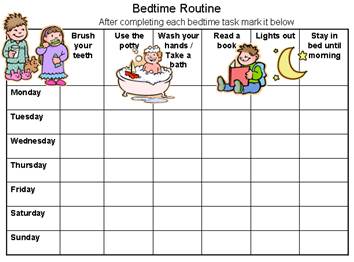 There are two versions of this chart:
1) One bedtime routine chart with the term "Use the potty."
2) Another bedtime routine chart with the term "Use the toilet."
Customized Bedtime Chart
Sticking to a bedtime routine is one of the best ways to get your children to go to bed when the time comes. Keeping a bedtime routine chart will help you stick to the bedtime routine and even make it fun for your kids. Make sure that your child knows exactly what to expect and repeat the bedtime routine every day. Give them enough notice before you start.
Make their bedroom a place that they want to go to
Make their bedroom a place that they enjoy going to. If they don't have their own bedroom, then try to designate an area just for them. Let them help arrange the furniture and decorate their room or their section of the room. You want this to be a special place that they enjoy going to.
Make it clear to family members that this room or this area belongs to them. If others want to enter, then they should only do so with permission.
If they are afraid of the dark, then make sure you have suitable lighting that you can leave on all night. Either use a nightlight or leave a light on outside his room. If they are scared of the dark, then it makes no sense for the room to be dark at night.
If you have space, then keep toys in a separate room so that the bedroom is a place for sleeping and not playing. It will also help keep the bedroom tidy and the mess in the playroom. Their bedroom will be a place to go and sleep, and it will be clear they are not going to their room to play but to sleep.
Teach them how to make their beds and tidy their rooms. You might want to use our free printable chore charts for this.
Don't use their bedroom as a punishment room. If you send them to their room for misbehaving, then it will become a place that they don't want to go to.
Read a book together every night!
Reading to your child is very important and an integral part of the bedtime routine.
Read the story or book in bed. This gives them something to look forward to in bed and signals that the day is officially over. They must understand that there will be no more TV or games and they cannot leave their bed. It must be clear that leaving their bed is NOT an option. If they need something important, then they can call you. They need to know that you are there for them if they have a real problem. Knowing that you will come if they really need you will make them feel safe. Of course, you will need to ensure that they do not take advantage of this.
See 10 ways to get your child to sleep in her bed
Check out our morning routine charts as well!