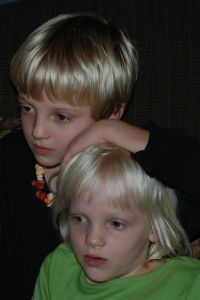 What is sibling rivalry?
Sibling rivalry is the arguing and fighting between siblings – brothers and sisters – as a result of jealousy and competition. Some siblings are the best of friends some times and almost enemies other times. Most parents with more than one child face challenges related to sibling rivalry to a certain degree. It can cause much stress and frustration but can be reduced or even eliminated.
Sibling rivalry changes and takes on different forms as your children grow due to their evolving needs and personalities. When kids are very young they are usually very protective of their toys and you often hear siblings fighting constantly over toys and other belongings. Older kids are often protective of their independence and individuality and sibling fighting can occur when once child threatens another child's independence or individuality.
How can sibling rivalry be productive?
The relationship between siblings can be used to provide children with skills that they will need later on in life in order to stand up for themselves while cooperating with others and compromising or negotiating if need be. This is an opportunity for parents to ensure that their children are equipped with the tools that they will later need with friends, in the workplace, in serious relationships, etc. For this reason, sibling rivalry should be dealt with not only for a calmer atmosphere at home or for your nerves but for your children's' future. Although, the relationship between siblings is unique and not necessarily related to other relationships in life feelings of jealousy, competition and anger can always be present to a certain degree in other relationships.
What causes sibling rivalry?
There are many reasons for sibling rivalry.
Jealousy and Competition – These are the main reasons for sibling rivalry. Children often feel that their siblings receive preferential treatment. This can be in the form of more attention or more of anything received as positive (such as toys or possessions) or less of things perceived as negative (such as discipline). They often perceive these differences even when they do not exist or when differences are so small that they would normally go unnoticed.
Individual personalities and temperaments – Children often want to define who they are as individuals while showing that they are separate from their siblings. Siblings are often very different and their unique differences in personalities can cause them to fight or get along. For example, if two children both like to get their own way there will be more fighting than in a family where one child is more laid back and prefers to compromise than be in situations with conflict.
Different needs – Siblings often have different needs. In certain cases, this difference may be more extreme such as when one child has special needs. Other children often resent the fact that one child gets more attention and perceives it as preferential treatment.
Family dynamics – The way parents resolve conflicts often sets an example for their children. If children see their parents arguing among themselves or with others in an aggressive manner they might think that this is how a conflict should be dealt with. Set an example and make sure that you yourself manage your anger and deal with conflicts or disagreements in a calm and respectful manner.
The way parents deal with their children's conflicts can often cause even more sibling rivalry. For example, if one parent is always busy with other things such as work and does not pay much attention to the children other than when they are fighting they might continue to fight in order to get the attention that they need and want from their parent. If parents constantly side with one child when they fight it may cause even more sibling rivalry.
How to Prevent Sibling Rivalry